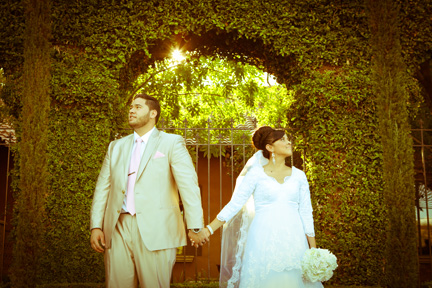 Sarahli and Luna joined us at Villa Siena August 31, 2013 for their wedding reception. The ceremony was performed at the Mesa, Arizona Church of Jesus Christ of Latter Day Saints. The couple initially met in Hawaii.
Throughout the day the couple shared sweet smiles with one another. Sarahli wore a gown with an empire waist and three quarter length sleeves. The gown V-necked into layers of lace. Her hair was worn in a stylish bun wrapped with a braid. Diamond drop earrings and a bracelet offered a little sparkle. Lace shoes continued a traditional look. Instead of fresh flowers, Sarahli carried a bouquet of silk flowers. Luna wore a light grey suit and pink tie.
During cocktail hour a Mariachi band offered entertainment. A photo booth backdrop was set up for guests to pose in front of. The father of the bride toasted friends and family.
The couple was wrapped in each other's arms for Shayne Ward's Breathless as their first dance. Then Sarahli danced with her father followed by Luna dancing with selected ladies.
A vintage suitcase was set up to collect cards from guests. Pink and white flowers graced each table while table numbers were set in ornate picture frames.
For sweet treats a variety of cupcakes were offered along with petite cheesecakes, fresh fruit tartlets, chocolate tiramisu and cream puff swans. The dessert bar was in place of a traditional cake, although a symbolic cake was displayed with silk flowers.
Favors were porcelain birds for each guest.
Congratulations Sarahli and Luna. May the symbol of the bird, that thing of beauty that flies within us all, remind you of the freedom of love.
Photography by: Lisa Elly Photography