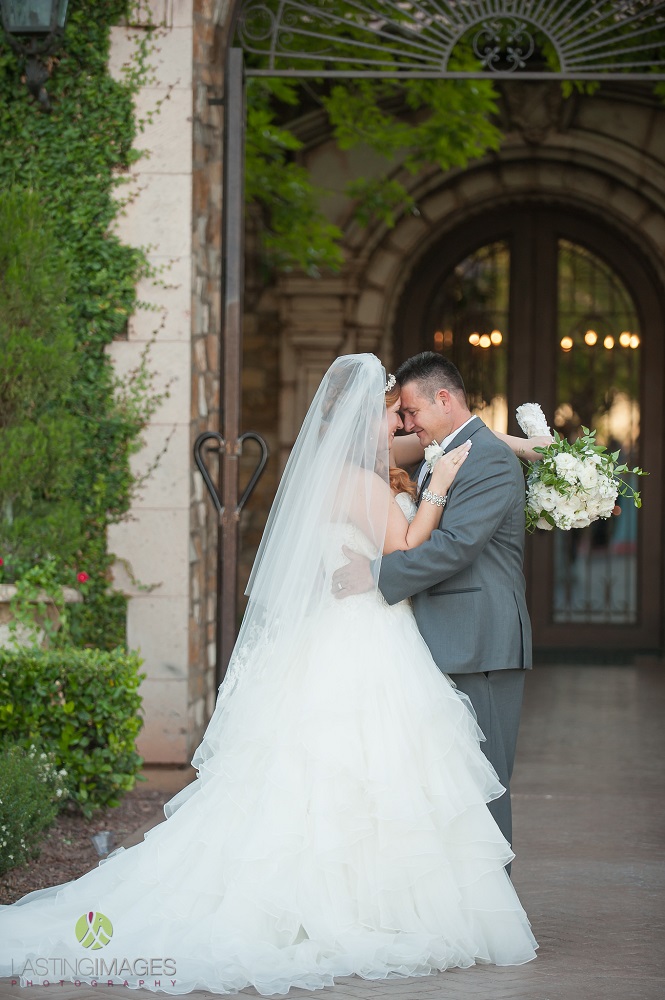 May 23, 2015, as guests were seated for the marriage of Michelle and Shane, there were fans that read "Best Day Ever" awaiting them. Flower balls of roses and hyacinths were tied to the ends of aisle chairs. To begin the ceremony, the ring bearer carried a sign down the aisle that read Here comes the bride – My Mommy. The officiant was the couple's pastor and as part of the ceremony three different colored sands were combined together in a single jar to represent the merging of three lives: the bride, the groom and the bride's son. A family blessing was given during the ceremony. The sign And they lived happily ever after was a perfect prediction for their lives together.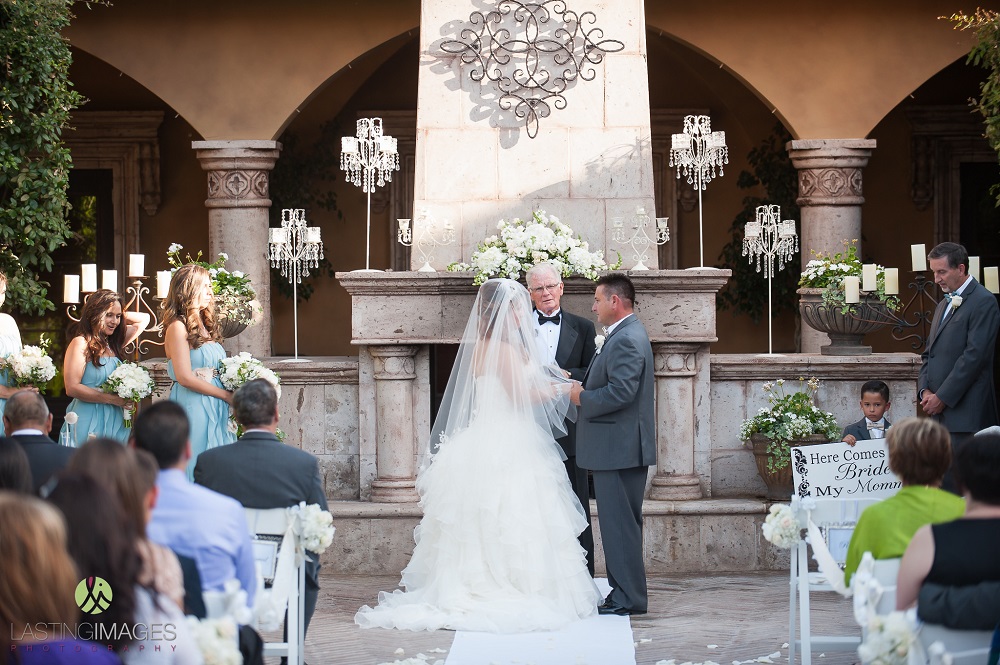 For her wedding day, Michelle chose a gown from David's bridal with an embroidered bodice and ruffled skirt. She also wore a headband and veil. The bridal bouquet wrapped roses, hyacinths and green ivy in lace. Peeking out from under her dress was a pair of silver open-toed shoes. Her bridesmaids were in strapless pale blue Vera Wang floor-length gowns with belts and ruffles down the front. The groom was dressed a grey tuxedo with piping with a white shirt, bowtie and a white rose in his lapel. His groomsmen wore grey tuxedos with light blue vests and light blue ties.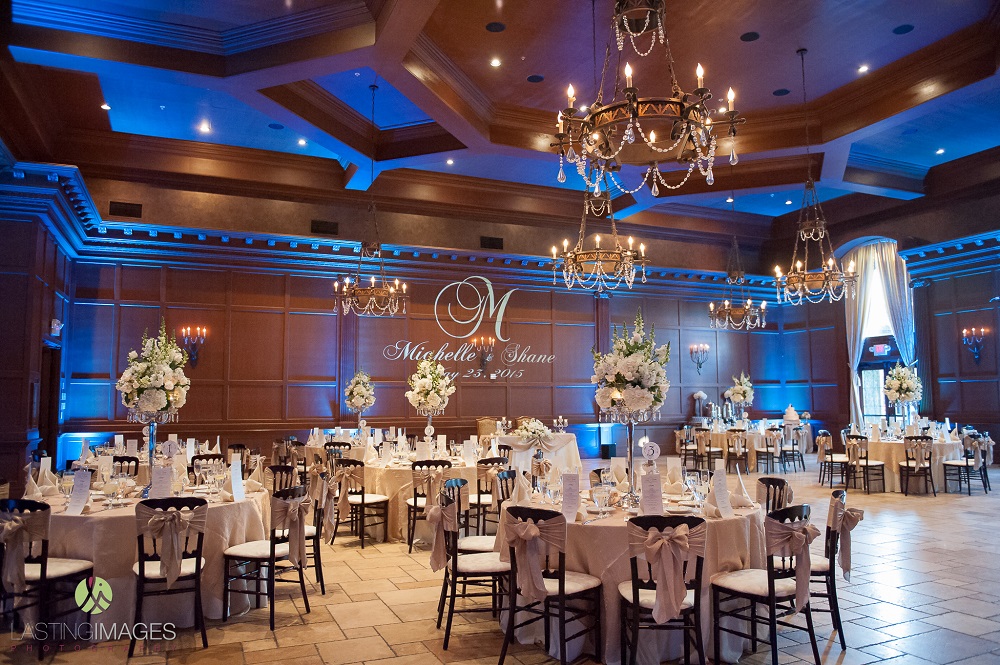 At the reception the groom surprised the bride with blue personalized name lighting by Karma Event Lighting. White bows were tied around seats and white tablecloths and flowers adorned each table. Table numbers were set in stands wrapped in lace.
The couple's first dance as man and wife was to Who I Am With You by Chris Young followed by the father & daughter dance to I Loved Her First by Heartland and Mom by Garth Brooks for the mother & son dance.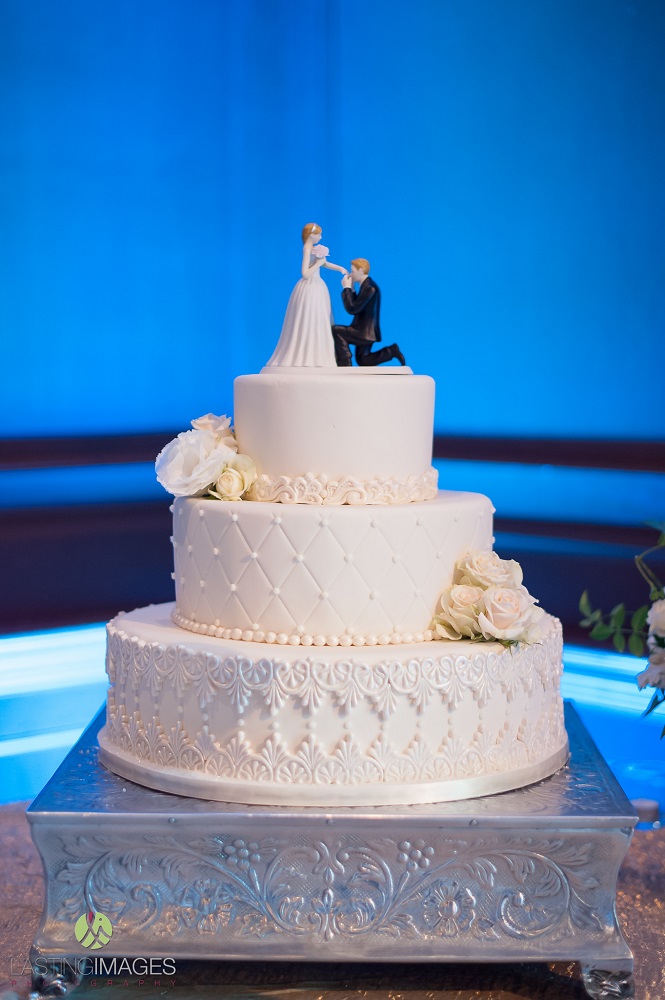 The bride said a prayer before dinner and with her husband, thanked guests for coming. For dessert a three-tiered round white cake with white detailed piping was served. Under the frosting was a white almond infused cake with almond cream cheese filling. The topper was a groom on one knee kissing the bride's hand.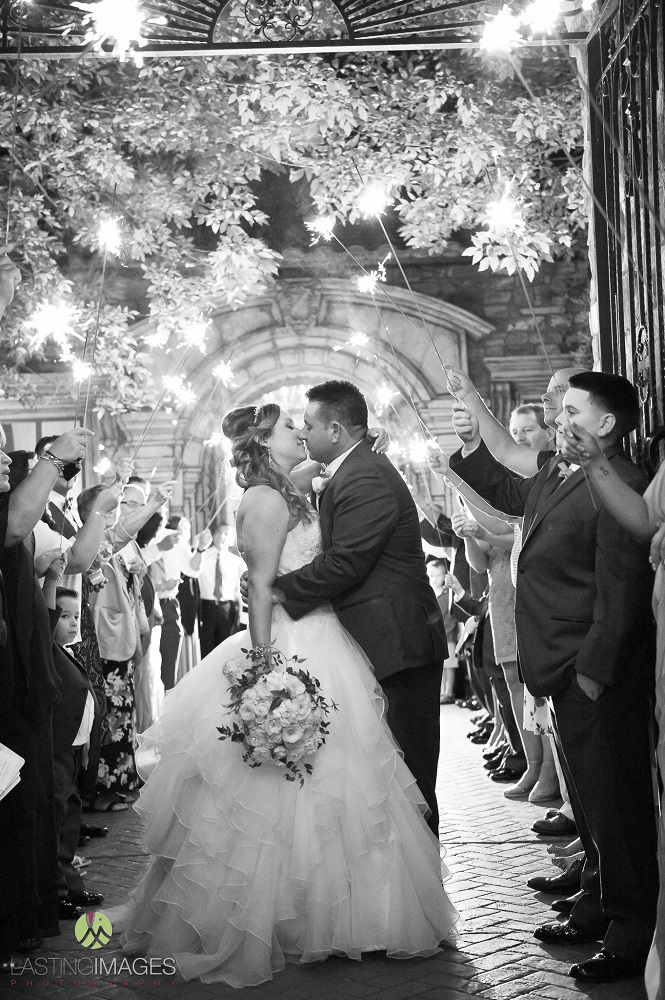 Favors were crystal mini-carriages. The night ended with a signature Villa Siena sparkler farewell. Congratulations Michelle and Shane. May every day of your lives together be the best day of your lives. We wish you the best.
Photography by: Lasting Images Photography
To view more photos from this wedding, please visit our Facebook or view our Photostream!