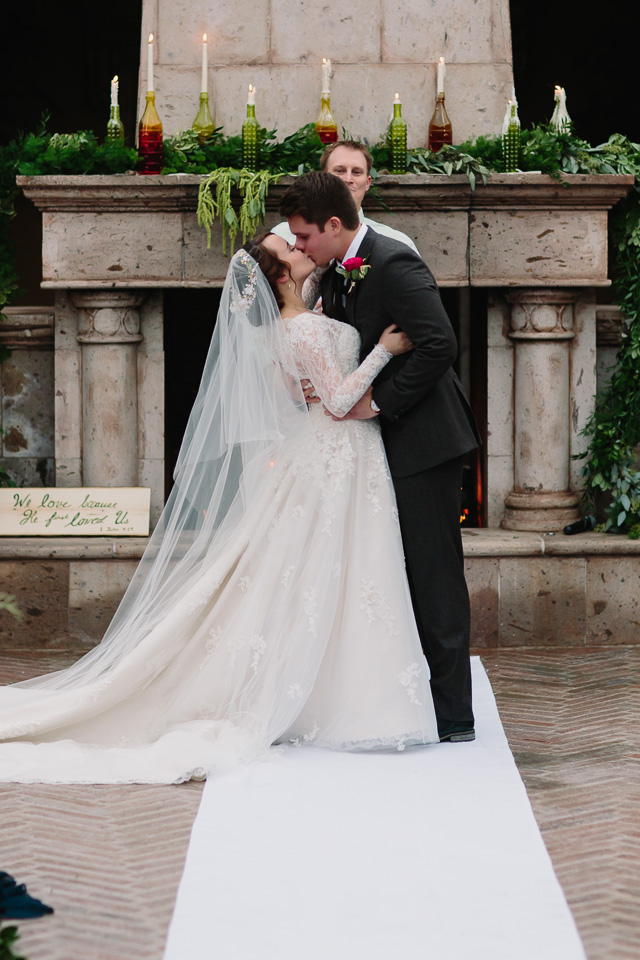 Winter weddings have their own quiet beauty, as was the case for Danielle and James' wedding December 6, 2015. The couple married four and a half years after they first met in high school. They even came to Villa Siena for their Prom when they were in high school. The Villa was fully decorated for the holidays with the couple bringing in and decorating their own Christmas tree, which sparkled with hundred of lights, and was wrapped with plaid ribbon, for the occasion.
For her wedding, Danielle wore an exquisite custom Ian Stuart gown. The dress featured a lace top and was fitted to the waist. The back of the dress had a keyhole opening with lace detailing trailing down the skirt of the gown. Covered buttons finished the look.  Danielle did a lot of the detail work on her dress herself, which turned out just beautifully. The bride wore her hair in an up-do finished with a cathedral length veil and headband over the veil. A diamond teardrop necklace added a little sparkle to the ensemble. The bridesmaids dresses were all different styles with an antique feel and beading reminiscent of the 1920's.  The dresses ranged in color from grey to taupe to silver. The bridal bouquet was filled with lots of greenery while her bridesmaids carried bouquets of greenery, red roses and baby's breath, fitting in with the holiday theme. Danielle's groom, James, wore a black tuxedo with black tie and white shirt. Overcome with emotion, James teared up when he saw his bride walking down the aisle towards him. His best man squeezed his shoulder in a show of support. The groomsmen wore dark grey suits with green ties.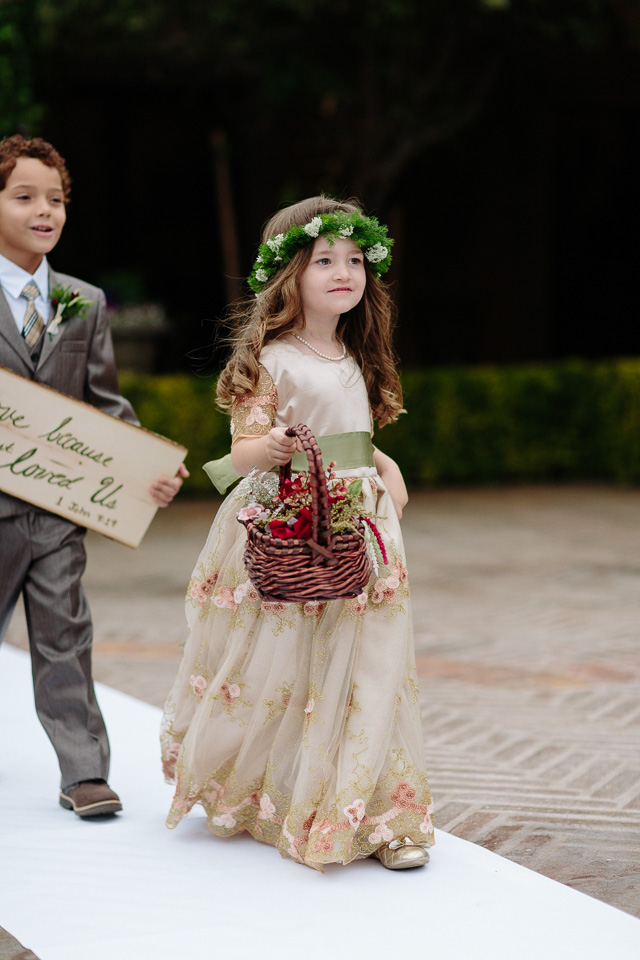 The wedding ceremony took place outside with a garland draped over the altar accented with antique glass bottles of different colors, each with a white candle burning. The aisle chairs had a mini bouquet of pine needles and copper berries wrapped with ribbon. During the ceremony the main theme was, We love because he loved us.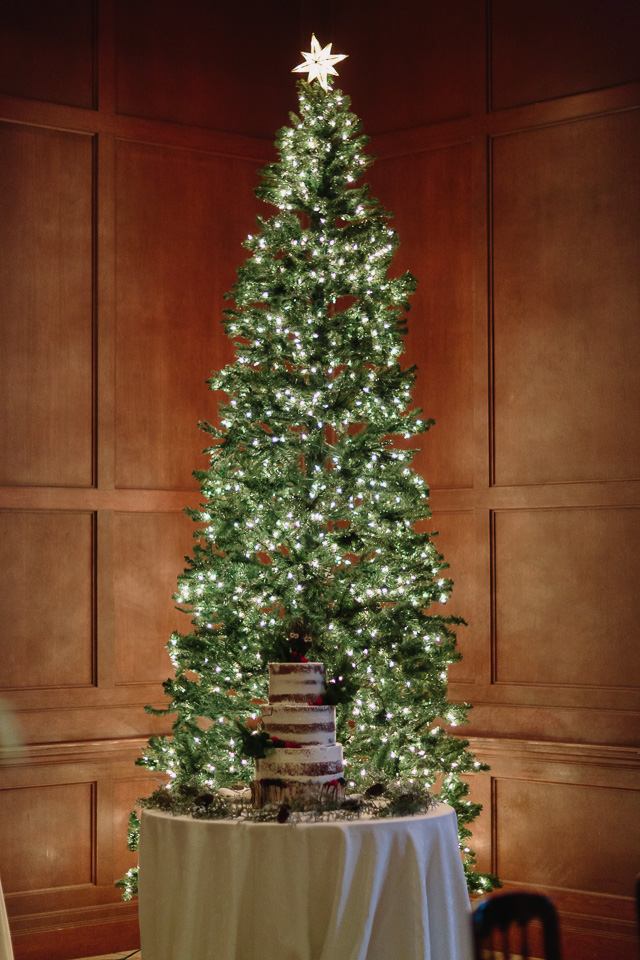 After the ceremony, the newlyweds showcased their talents from their dance lessons as Danielle and James danced their first dance to Forever Like That by Ben Rector. They also did the traditional Spanish dance, La Marcha.  The couple's first dance was followed by the father and daughter dance to Sweet Pea by Amos. Return to Pooh Corner sweetened the mood for the mother and son dance.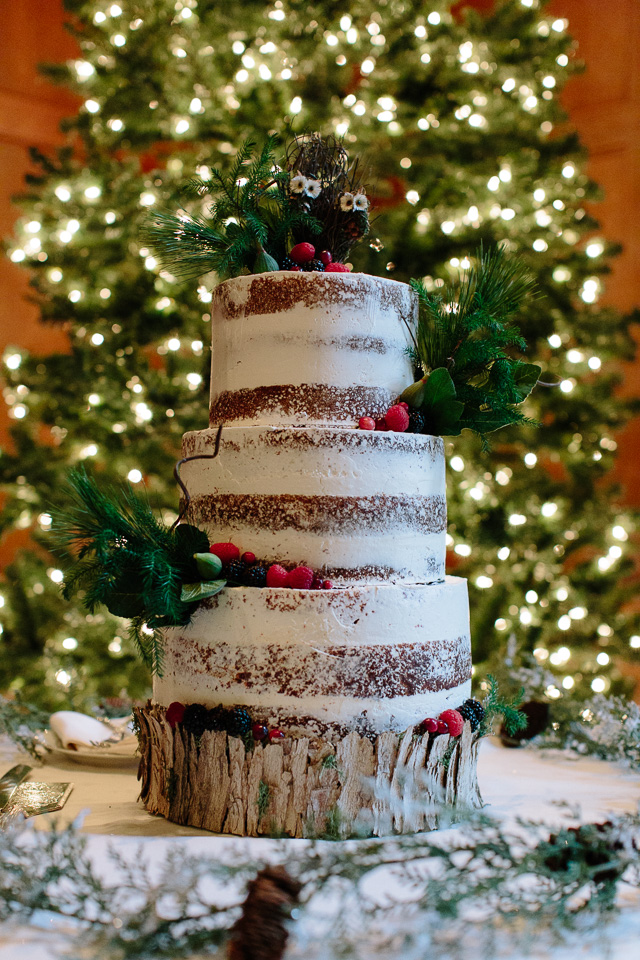 A custom wedding cake was made with exposed sections to look like wood. A wood base and evergreen were used to display the cake while two wooden owls sat on top of the cake with red berries surrounding them.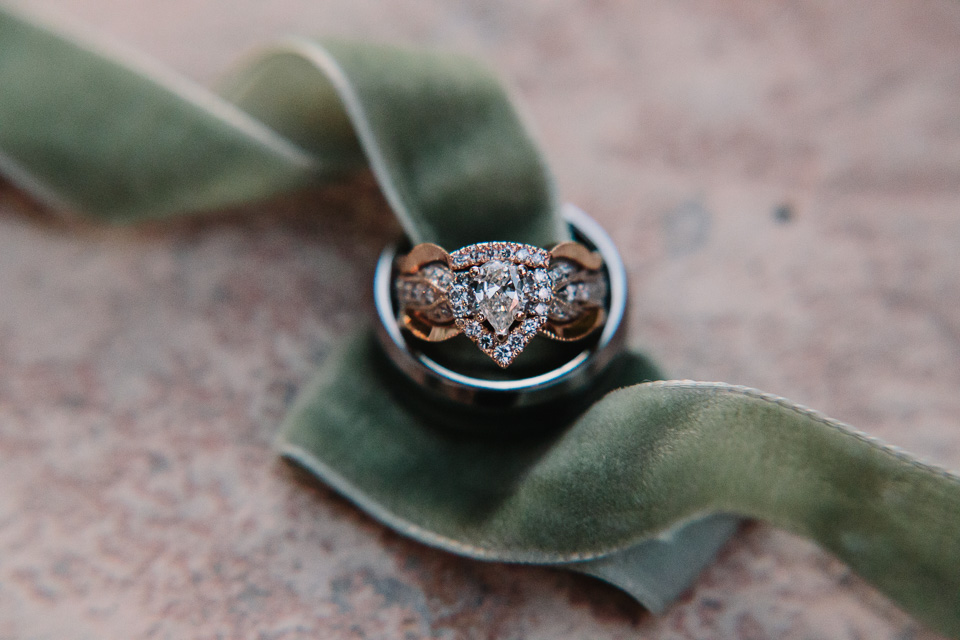 Congratulations Danielle and James. May your love shine as brightly as the North Star on a moonless night. We wish you the best.
Photography by: Aaron Hoskins Photography
To view more photos from this wedding, please visit our Facebook or view our Photostream!