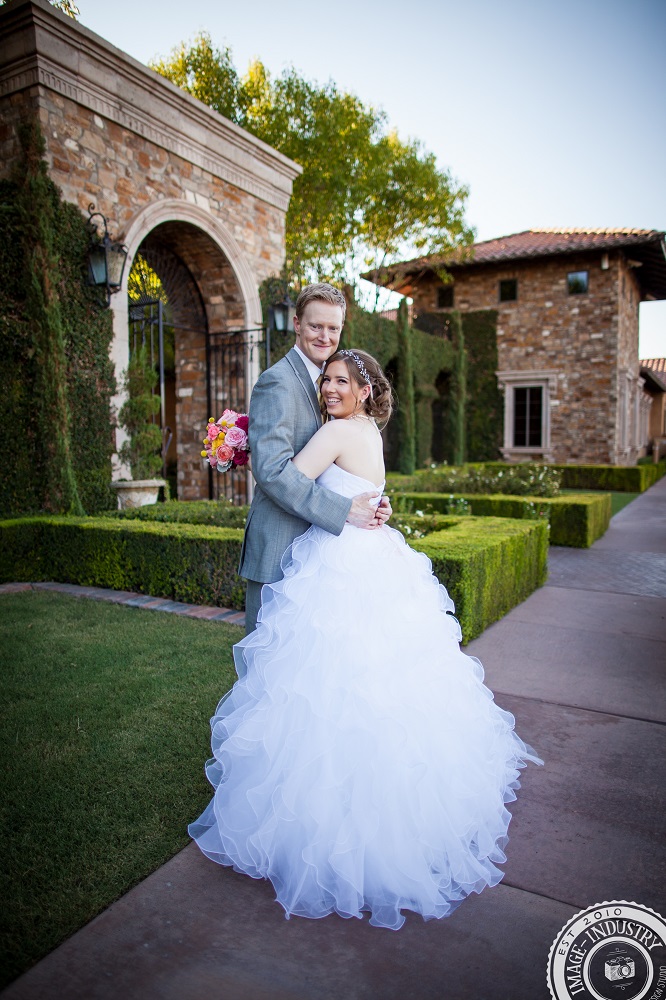 You probably never want to hear the word 'awkward' when it comes to a couple's first date, but Tara and Chris were set up awkwardly by a friend from work, or so the story goes. No matter how it all started, the couple fell for one another!
The couple married August 8, 2014. Tara wore a beautiful Mori Lee by Madeline Gardner gown. The silhouette was a fitted bodice and belt flowing into layers of ruffled tulle. The bride wore a diamond headband and veil. A traditional pearl necklace accented the ensemble. The bridal bouquet brought together pink roses of all different shades with a bright yellow rose or two. Christopher wore a grey tuxedo with satin piping and a white shirt with ivory colored tie while his best man wore a grey tie. The maid of honor wore an Alfredo Angelo gown of grey with gauze overlay.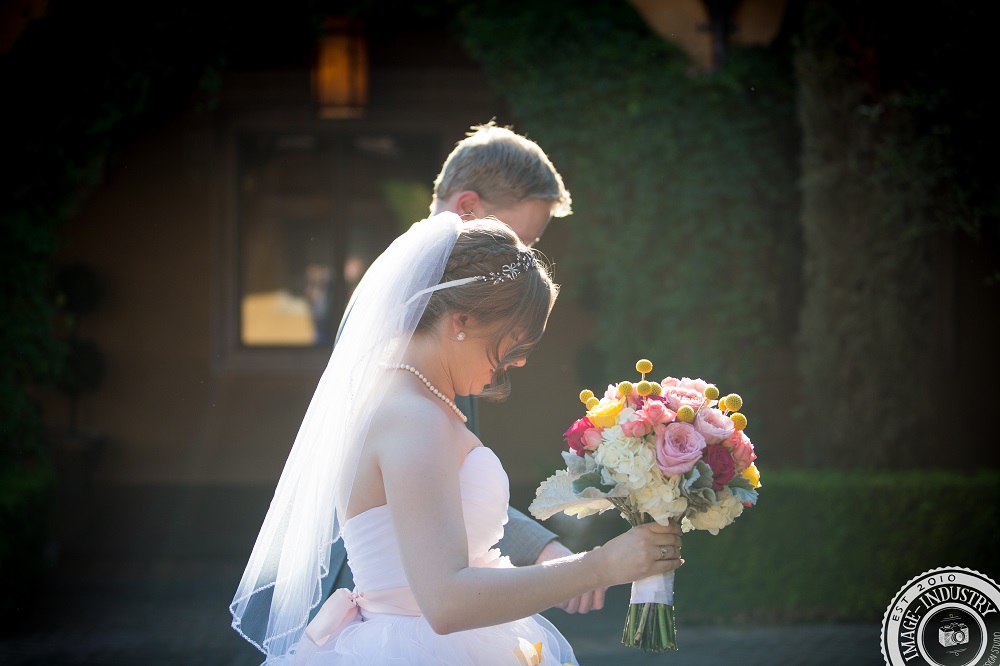 The couple had an outdoor wedding ceremony. For the day, the fountain was festive with pink, coral and yellow rose petals floating in it while the red runner was sprinkled with rose petals as well.
Tables were laid for the reception with pink runners and ivory tablecloths. Centerpieces were made up of ceramic vases of different sizes filled with a bright array of flowers. During the reception, there was no pressure on the couple when the maid of honor said, "I can't wait to see the babies." The best man was a little more conservative with his comments, proclaiming how happy he was for them and the love they have.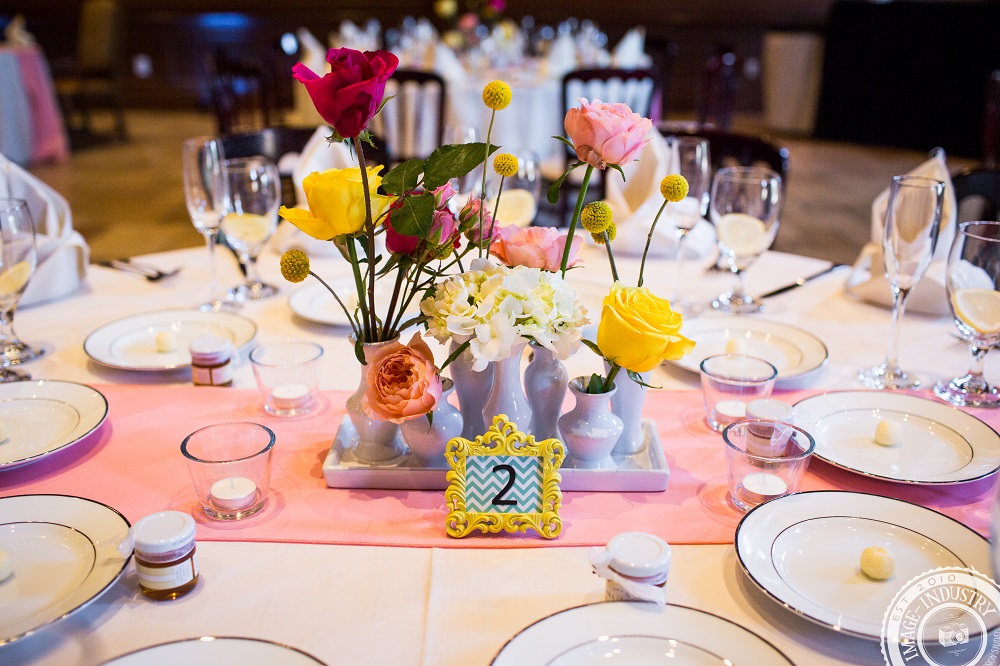 For dessert there was a groom's cake in the shape of a Chicago Cub's baseball hat, baseball and bat. There was also a more traditional wedding cake. The top layer was blue with white fondant polk-a-dots while the middle layer was overlaid with fondant rose petals finishing with the bottom tier decorated with blue striped fondant. The cake was topped with two yellow roses and a hot pink rose.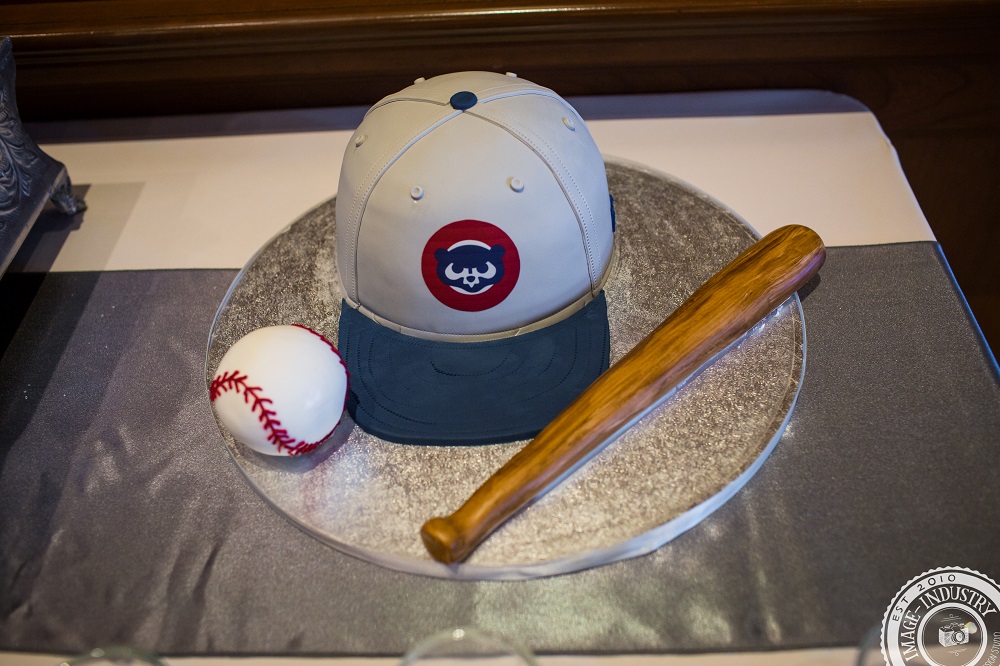 As the couple left for their life together, guests ushered them on their way with a signature Villa Siena sparkler farewell.
Congratulations Tara and Christopher. May your lives together be filled with the same secret smiles you shared with one another on your wedding day. We wish you the best.
Photography by: Image-Industry Photography
To view more photos from this wedding, please visit our Facebook or view our Photostream!