Stephanie and Cory, who met through a mutual friend at Arizona State University, were married on April 29, 2018.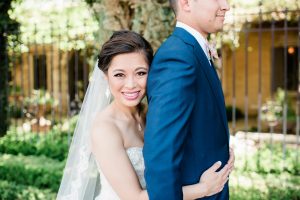 Stephanie used two dresses to create a sophisticated strapless A-line gown with a sweetheart neckline, embellished bodice, and lace overlay on the train skirt. Her accessories included a pendant necklace, drop earrings, and a hip-length lace-edged veil. Her bouquet was composed of assorted flowers in shades of pink, purple and orange with botanical accents. Her bridesmaids wore pink off-the-shoulder full-length gowns and carried small bouquets of white flowers.
Cory wore a blue three-piece suit with a blue vest, white shirt, patterned bow tie, and matching pocket square. His groomsmen wore blue suits to match him.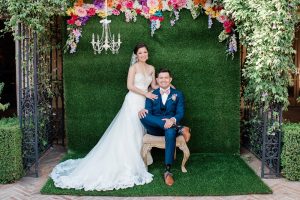 During the reception, guests enjoyed a meal of spring mix salad with strawberries, apples, and lemon poppy seed dressing; wild rice; red and traditional quinoa; fresh green beans, sliced beef tenderloin; and baked Dover sole stuffed with snow crab. There was also a chocolate fountain, cupcake display, and a dessert bar.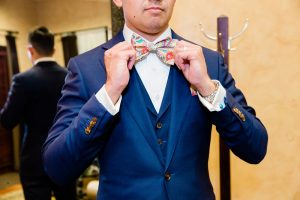 The best man, who was not able to be at the wedding said in a prerecorded video that Cory was the most loyal, generous, and selfless person he knew. The bride's father greeted the groom's family and blessed them. The groom thanked everyone for coming to the wedding.
Stephanie and Cory danced to "Fly Me to the Moon" by Frank Sinatra. Stephanie and her father danced to "You'll Be in my Heart" by Phil Collins.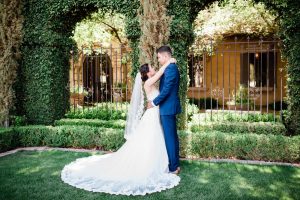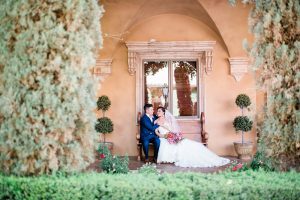 The wedding cake was done in pink ombre with a brushed frosting design, and was topped with succulents.
The newlyweds left the wedding under the signature sparkler send-off. They honeymooned in French Polynesia.
We wish the bride and groom every happiness!
Photography by: Alisha Hunsaker Photography