A Stunning Evening With Samantha And Cory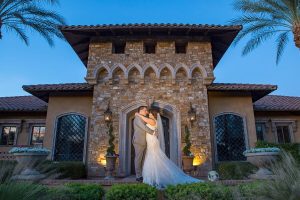 Samantha and Cory's love story went all the way back to first grade — and we couldn't have been happier to help them make it official after all these years! After meeting as children and reconnecting in high school, this couple knew it was meant to be.

They celebrated their day with a gorgeous color scheme of purple, white, and silver. We loved seeing the villa decorated with the deep purple tablecloths and seeing how well every detail came together (even the ties of the groomsmen matched!). The bride looked gorgeous in her mermaid gown with a sweetheart neckline and plenty of traditional lace, while the groom was handsome as anything in his grey suit.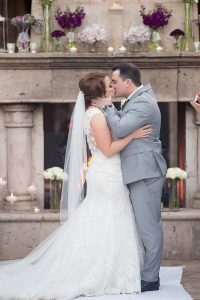 This reception was full of lovely little touches — from having the officiant read out what the bride and groom had said they loved about each other to the beautiful harpist, whose music filled the villa and added to the classical atmosphere. But by the time the reception came, the bride and groom were ready to dance the night away — starting with their first dance to "Perfect" by Ed Sheeran. We were blown away to hear that one of the verses was done in Italian, paying homage to their heritage — and the bride's father's toast brought even more of the mother tongue into the evening. Mixed with the black-and-white cookies, it felt like a truly Italian evening. (Don't worry, there was also a stunning three-tiered wedding cake to be had— decorated in silver and purple, of course!). It's always great to see a couple give a nod to their background.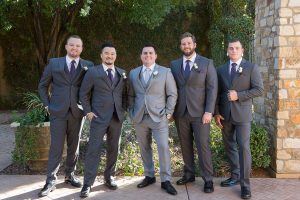 It was such a special treat meeting Samantha and Cory, and their ceremony and reception showed just how much love they have as a couple. They're welcome back anytime!
Photography by: Robert Westerman Photography