By the time Rebecca and Ben tied the knot, they'd already created a lifetime of beautiful memories. After all, these lovebirds have known each other since they were 11 years old! Their wedding was a lovely event draped in romantic shades of red and pink, and it was the perfect way to celebrate this next step in their love story.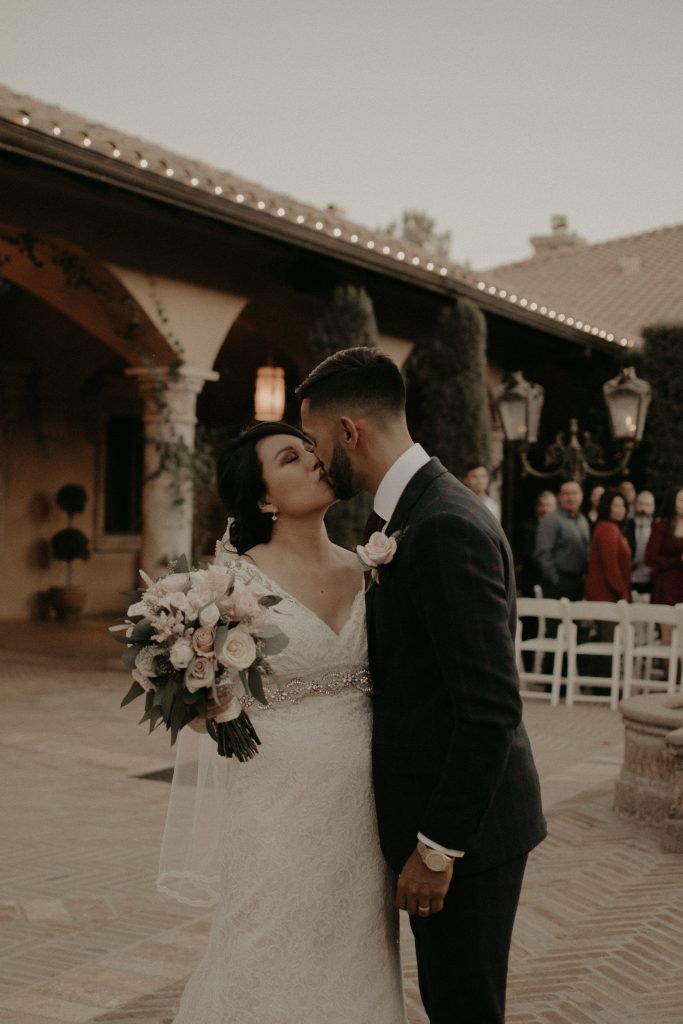 The couple were married in the Piazza Toscana on a beautiful November day surrounded by all their friends and loved ones. The Piazza's altar was decorated with red and pink roses, which beautifully complemented the bridesmaids' burgundy gowns and the groomsmen's black suits and burgundy ties. Rebecca was a vision in her trumpet-style dress, complete with a v-neckline and a beaded applique around her waist. She certainly brought a tear to many an eye — and she put a big smile on Ben's face!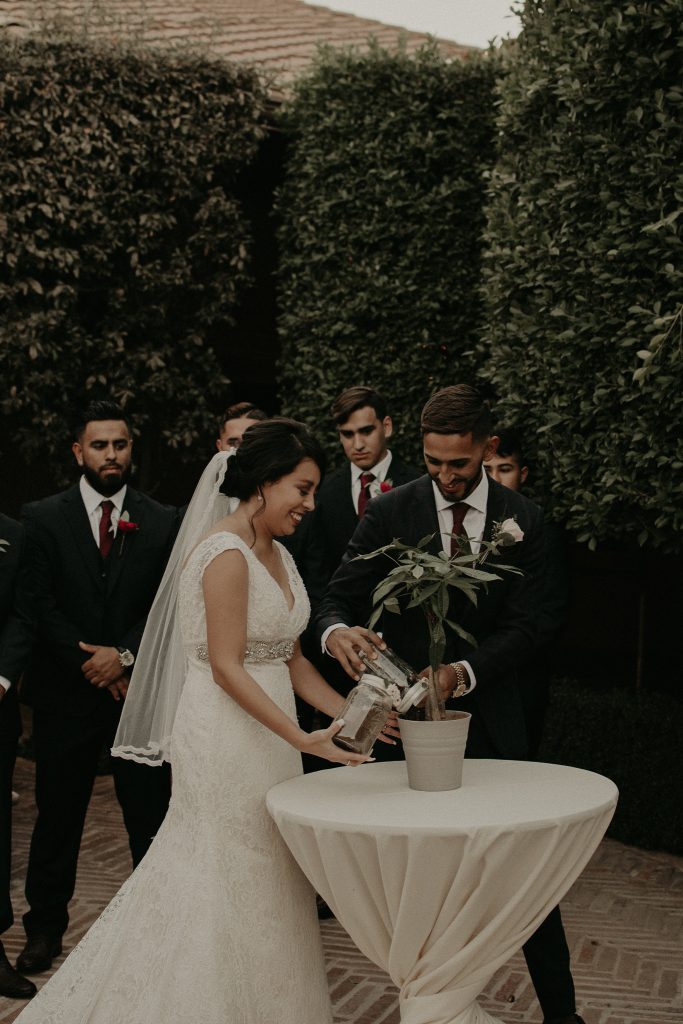 The ceremony was a lovely blend of wedding traditions and unique, personal touches. Rebecca's parents both escorted her down the aisle, and the couple took part in a planting ceremony along with their vows. During this ceremony, both bride and groom added dirt to a potted plant, which was meant to represent the foundation of their marriage. As the officiant explained, this plant would grow and thrive with the Lord's help — just like the couple's marriage.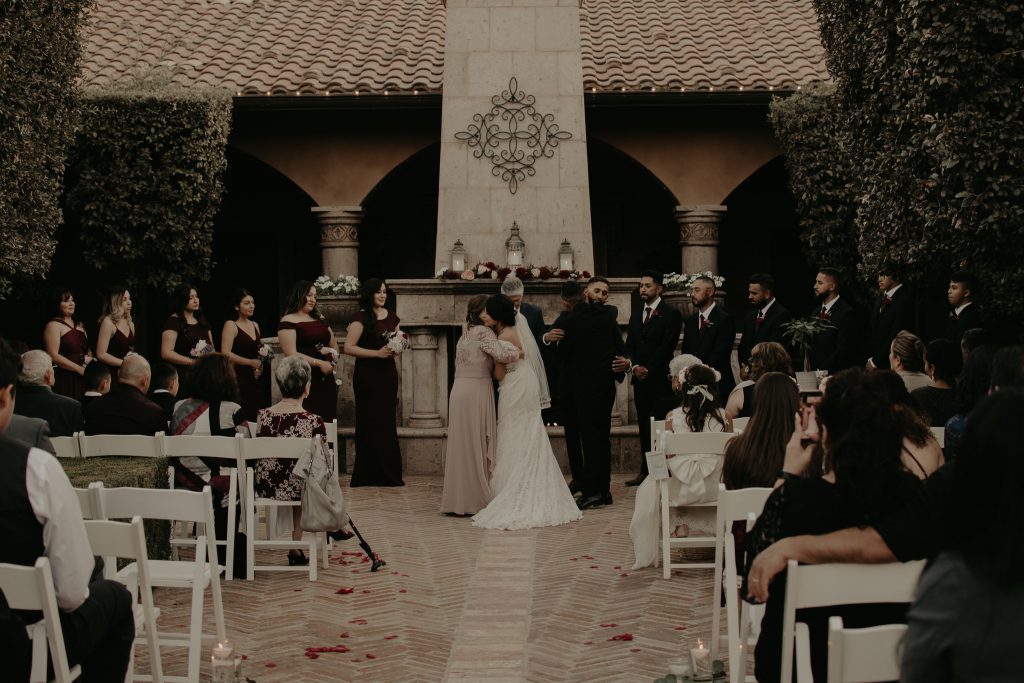 After Rebecca and Ben officially became husband and wife, it was time to head indoors for a delicious dinner from Babbo Catering. Guests chose from gorgonzola chicken or tuscan chicken as their entrees, and they enjoyed rustico pasta, pesto pasta, caesar salad, and napa valley salad on the side. And of course, that wasn't all the couple had in store; later on they served their guests an adorable, non-traditional wedding cake shaped like a cheeseburger!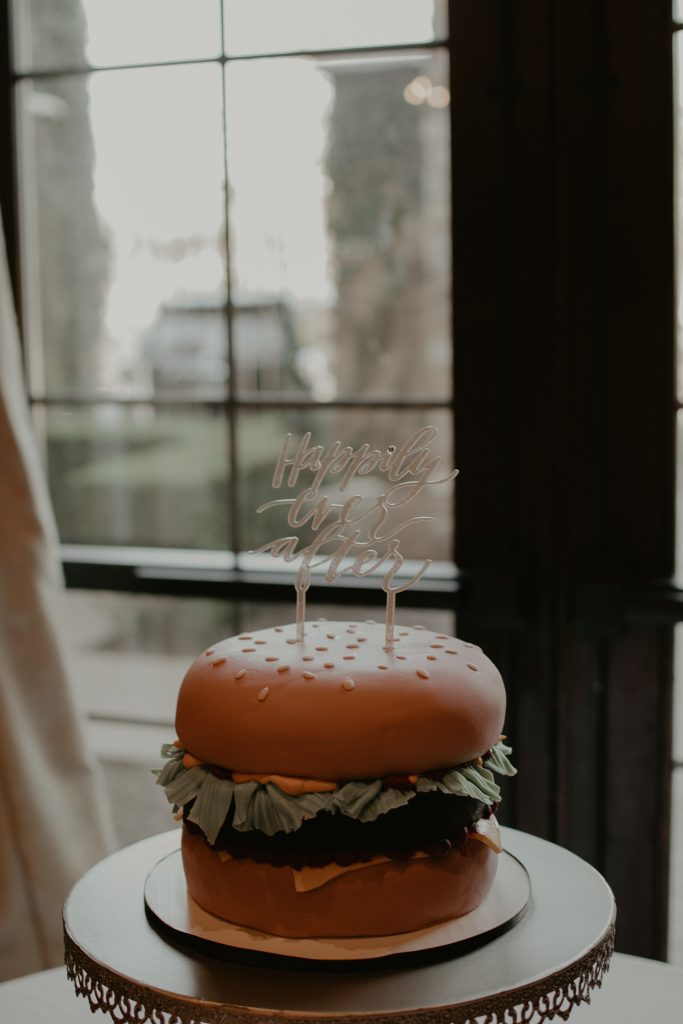 While guests found their seats and tucked into the wedding feast, Rebecca and Ben hit the dance floor for their first dance (set to a cover of "Stand By Me" by Music Travel Love). Rebecca and her father danced to Heartland's "I Loved Her First," and Ben and his mother danced to "Amor Eterno" by Rocio Durcal. Before long, the reception hall was filled with the noise and laughter of guests having a great time — and we believe that this night was just one of many more wonderful memories for this couple!
Photography By: Tot Marie Photography