A Beautiful Burgundy Wedding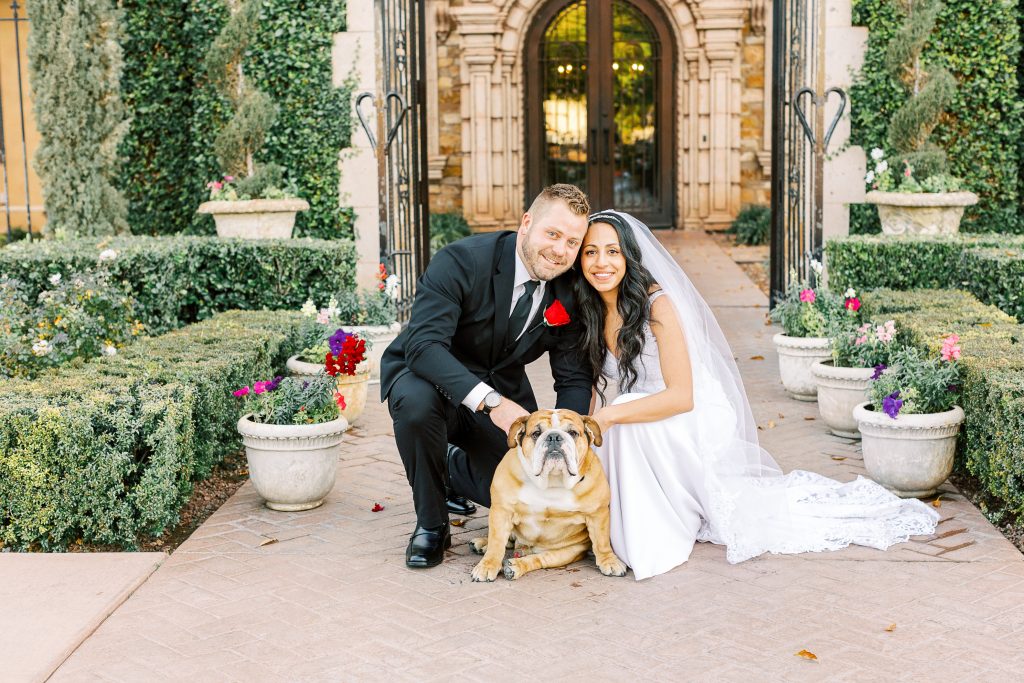 For Monica and Tyler, 2020 wasn't just the start of a new decade. It was the start of a new chapter in their lives — the start of their marriage! This couple's January wedding was an elegant, traditional celebration decorated in romantic shades of red, gold, and burgundy.
The couple were wed outdoors in our Plaza Toscano. The courtyard was beautifully decorated with a white aisle runner, scattered red rose petals, and a tall wooden cross on the fountain/altar. The wedding party was dressed in elegant burgundy and classic black — long burgundy gowns for the ladies, black tuxes with burgundy ties for Tyler and his groomsmen.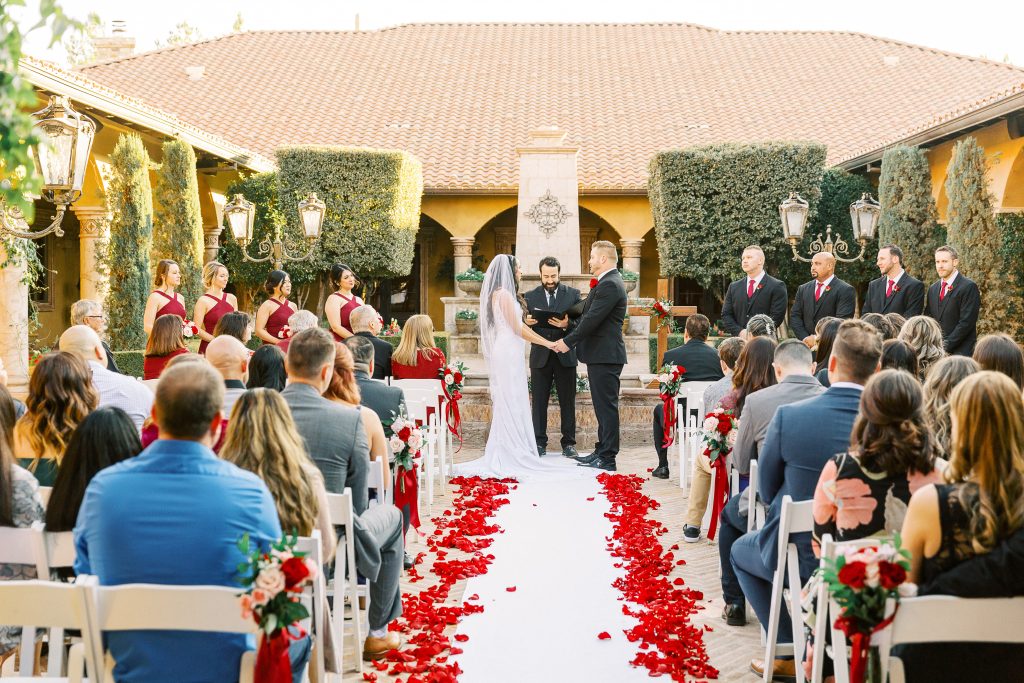 Our bride was a vision in her Essence of Australia gown, which featured a v-neck, beaded bodice and a sweet chapel train. As she walked down the aisle with her father, everyone had big smiles on their faces (especially the groom).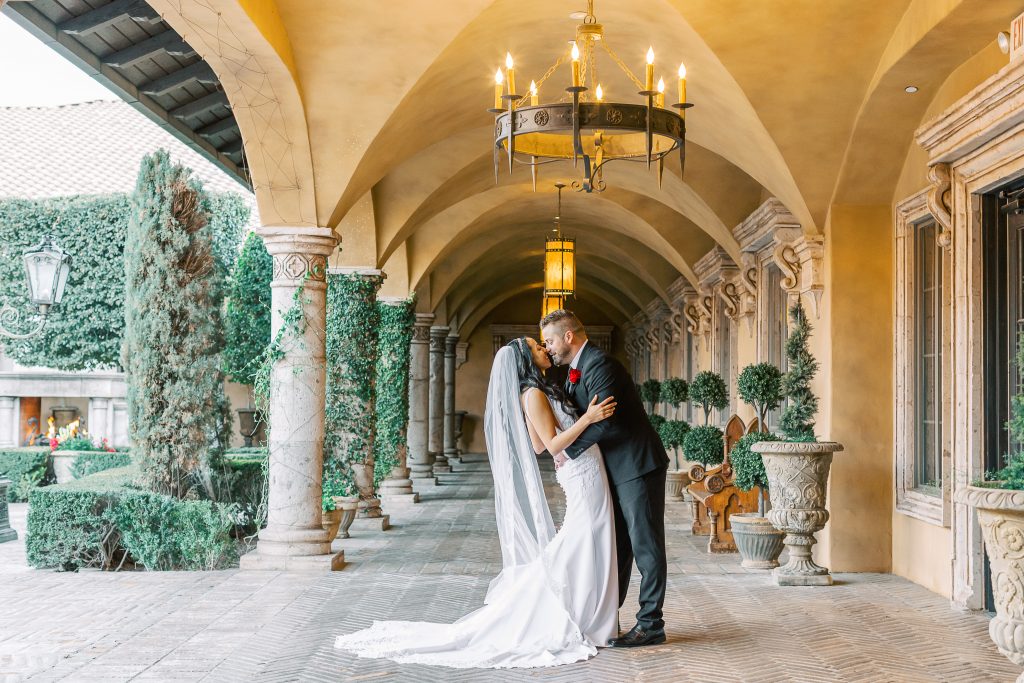 The ceremony was a traditional affair with a religious focus. The officiant prayed for the couple and read scripture about God's intentions for marriage. Then, Monica and Tyler exchanged vows and rings, and closed the ceremony with a kiss. It was official: the new Mr. and Mrs. Smith were married!
After tying the knot, it was time to unwind with dinner, drinks, and dancing. Monica and Tyler shared their first dance to Ryan Hurd's "Diamonds or Twine," before briefly splitting to dance with their parents. Monica and her father danced to Michael Buble's "Forever Now," and Tyler and his mother danced to "My Wish" by Rascal Flatts.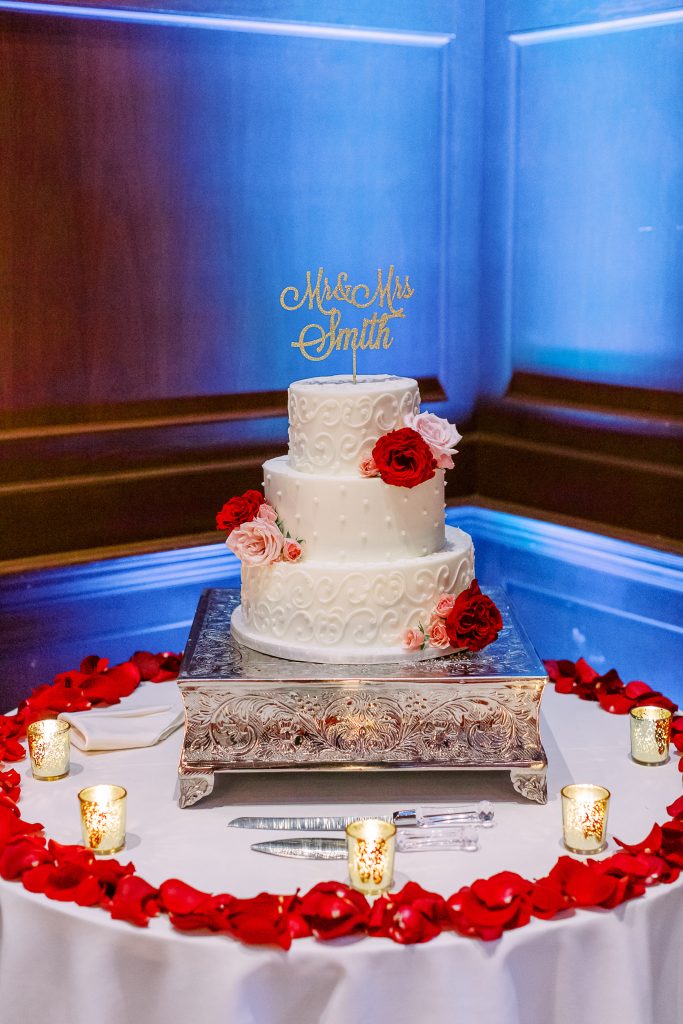 Soon, it was time for dinner: mashed potatoes, carrots and broccoli, steak, and glazed chicken. Guests chatted and laughed as they enjoyed their dinner, and then headed to the dance floor to cut a rug all evening long!
Photography By: Leslie Ann photography