A High School Romance Finally Blooms

We were so excited to welcome Michelle and Andrew to the vill on January 28th to celebrate their lifetime of romance. The couple met in high school and all the way back then their love started to bud, but when they reunited in 2003 is when their story really unfolded.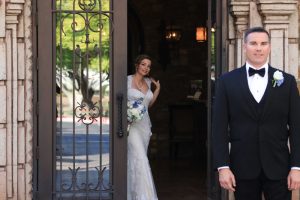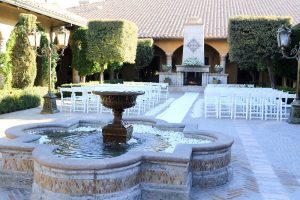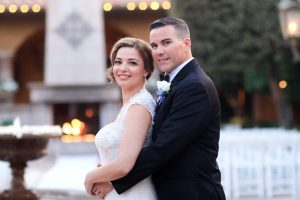 The wedding overflowed with romantic touches and a classic feel, from the lace detail on the bride's dress to the groom's slick tux to the intricate white icing work on the wedding cake. The pops of blues, blushes, and gold perfectly juxtaposed the classical architecture and stonework of the villa, giving the entire day a grand, fairy-tale atmosphere — and made the whole celebration feel like something truly special.
Ceremony
The couple filled the villa with light and love from the moment the orchestra played "Love Is A Great Unifier" during the stunning outdoor ceremony — and watching the couple celebrate their first dance with "Perfect"  by Ed Sheeran was a true joy for all of the guests (and the staff!).
Reception
During the reception, the guests enjoyed chipotle chicken and flat-iron steak while the speeches gave amazing insights into the couple's history and their future. The groom's brother, the best man, welcomed Michelle into the family and the bride's long-time best friend and "soul sister", Andrea, celebrated a groom who truly loves his new wife unconditionally.
It was easy for guests to see how this couple formed a true partnership. Watching them start their new life together was such a treat and everyone at Villa Siena wishes them all of the happiness in the future.
Photography by: One Fine Day Photography
To view more photos from this wedding, please visit our Photo Gallery!