Anthony and Marissa's story began long ago — the couple knew of each other in junior high, became friends in high school, and started dating in college. They began the latest chapter of their romance on December 14, 2019, when they became man and wife.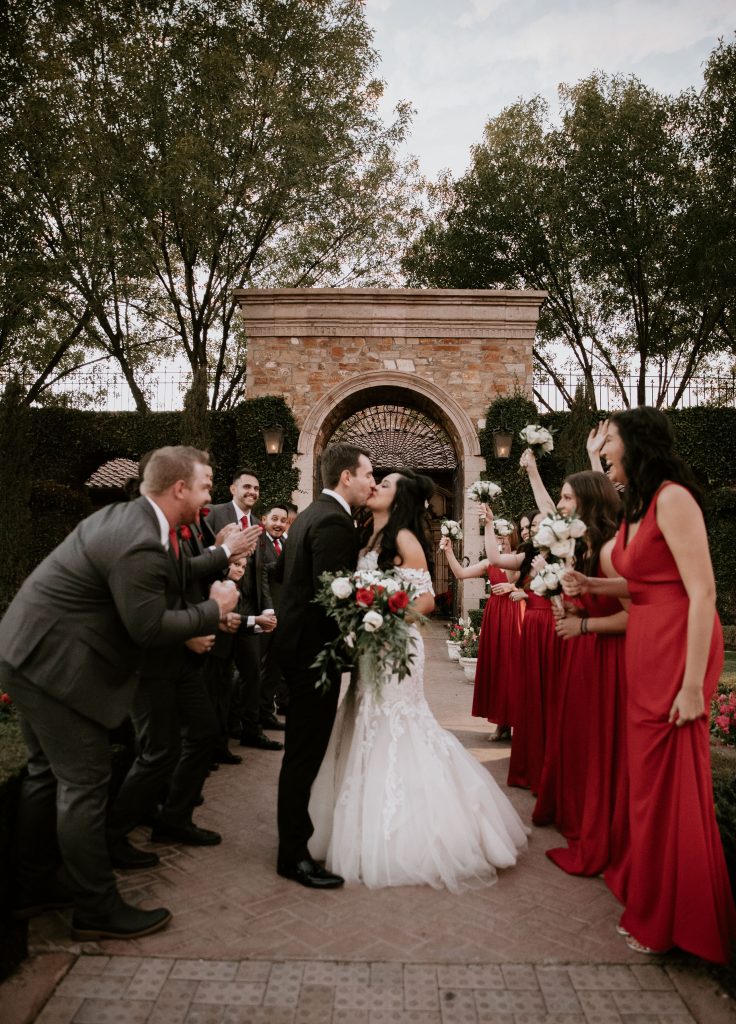 Marissa looked radiant in an off-the-shoulder trumpet gown with a sweetheart neckline and a beaded bodice. Her accessories included drop earrings and a multi-strand bracelet. Her cascade-style bouquet was composed of red and white roses accented with a variety of botanicals. Her bridesmaids wore matching sleeveless full-length red dresses with V necklines, and carried small bouquets of white flowers.
Anthony got married in a classic black three-piece suit with a black vest, white shirt, black tie, and white rose boutonniere. His groomsmen wore gray suits with gray vests, white shirts, red ties, red pocket squares, and red rose boutonnieres.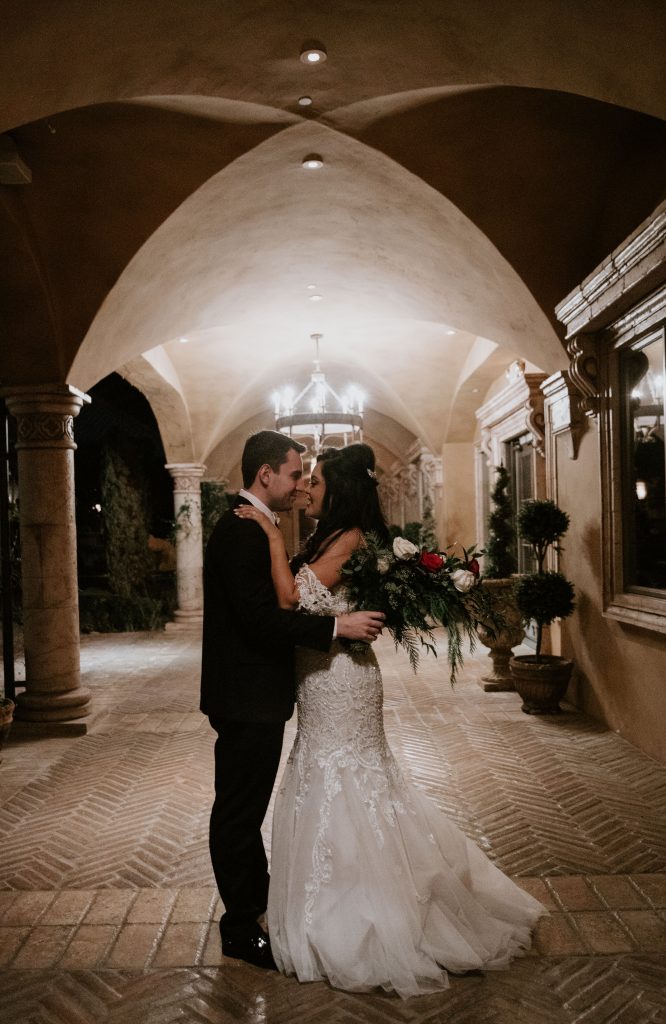 After an off-site ceremony, everyone arrived at Villa Siena ready to party! Guests signed wooden hearts for a keepsake for the newlyweds. After sitting down in a room decorated in silver and red, guests enjoyed a meal that included a classic Caesar salad, potatoes au gratin, fresh green beans, and grilled Tuscan chicken with shiitake and portobello mushrooms in a creamy balsamic sauce.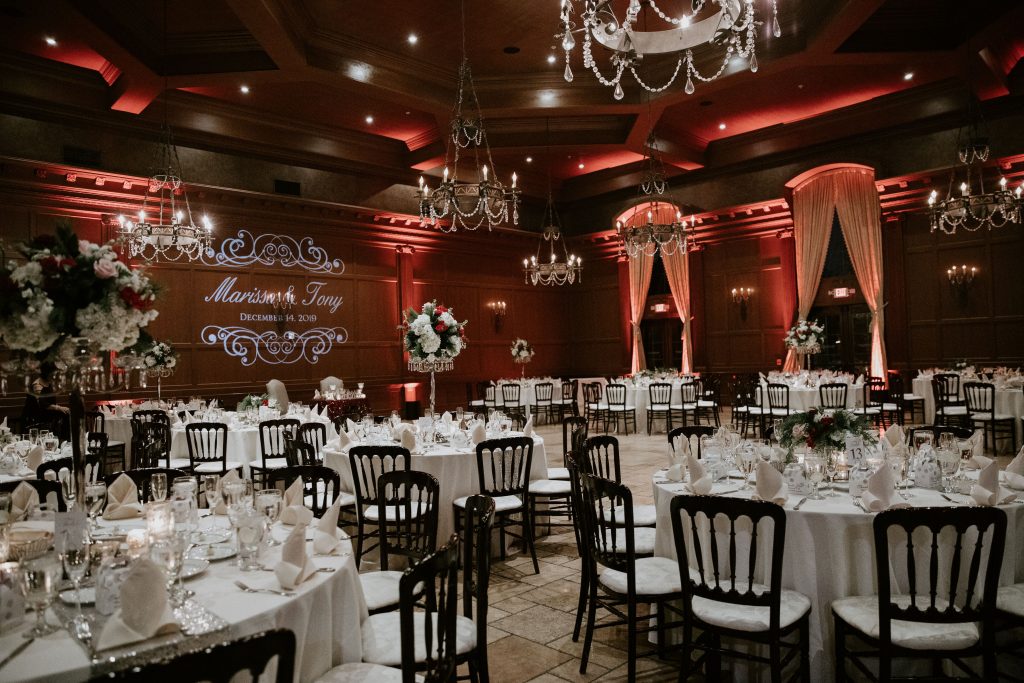 The bride and groom heard many heartfelt tributes during the speeches. The maid of honor, the bride's cousin, spoke about the importance of family and thanked the newlyweds for showing everyone what love and family look like. The best man, the groom's friend since elementary school, talked about his gratitude for Anthony's support and friendship, complimented the newlyweds, and told them how much he loved them. Anthony's brother reminisced about their childhood and expressed his wishes that their late mother was there. He advised the couple to be honest, open, and spontaneous with each other. Marissa's oldest brother expressed his joy about the wedding and his love for his sister, and thanked Anthony for taking care of her. The bride's other older brother talked about their childhood and thanked Anthony for making his sister happy.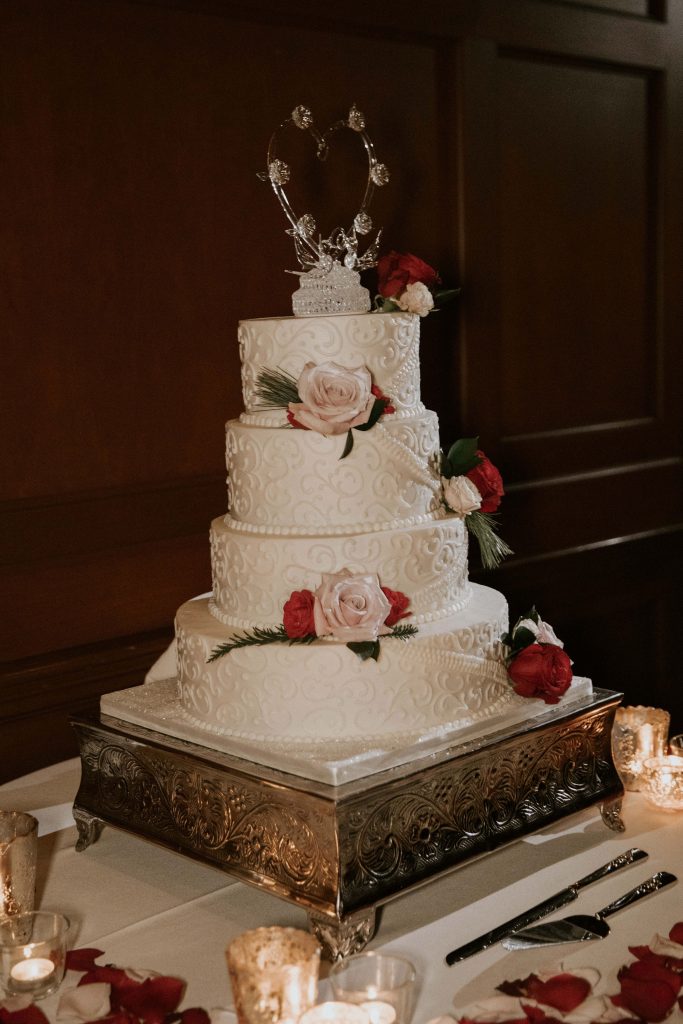 Marissa and Anthony's first dance was to "La Vie en Rose" by Louis Armstrong. Marissa and her father danced to "Dance With My Father" by Luther Vandross, and Anthony and his grandmother danced to "What a Wonderful World" by Louis Armstrong. Other wedding fun included an anniversary dance to "Faithfully" by Journey, a photo booth, and a mariachi band.
The four-tier wedding cake was done in a white-on-white curlicue design with pearl trim around the base of each layer. The cake was decorated with roses and the crystal topper the bride's mother used at her wedding.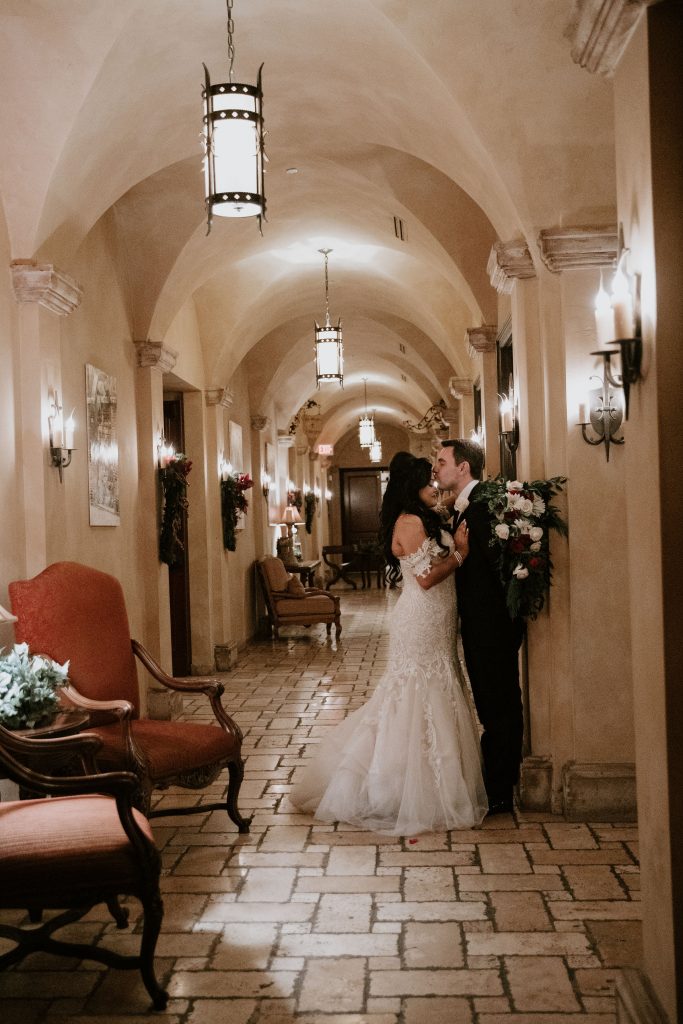 We wish this beautiful couple a long and happy life together!
Photography By: Charlotte Francis Photography