A "Home Run" Wedding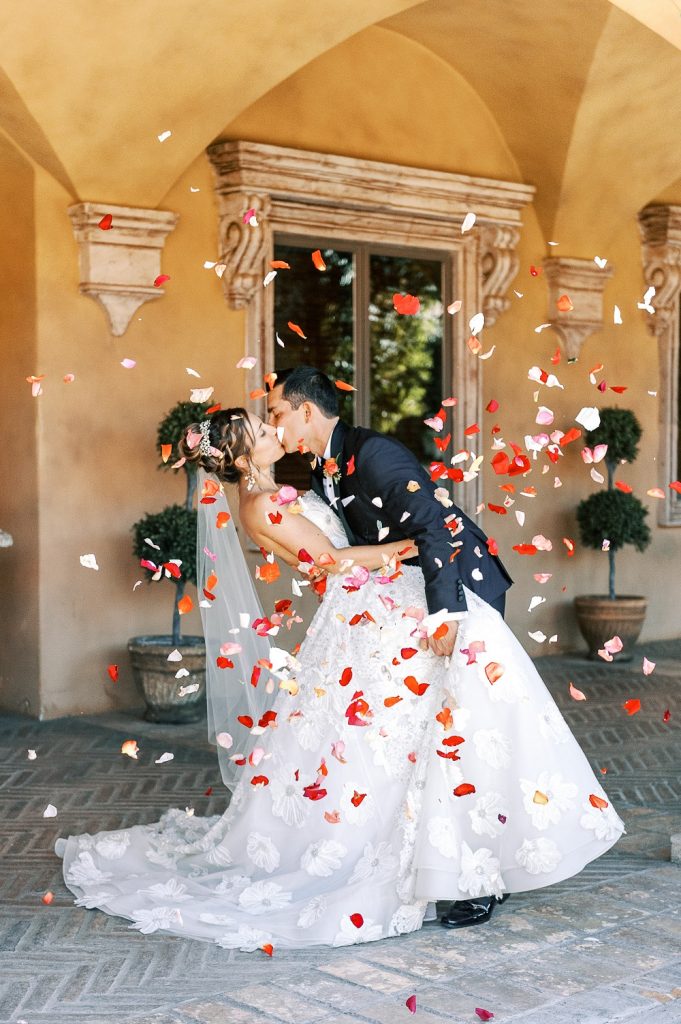 Kimberly was playing catcher at her company softball game when a cute batter from the rival team (a guy named Marcus) struck up a conversation. There were sparks between the two players — in fact, you might even say their conversation was a "home run." Before long, it was clear these two were meant to be, so they finally tied the knot right here at Villa Siena.
Kimberly and Marcus chose a vibrant color palette of pink, fuschia, peach, and green. The wedding party's neutral-colored looks (champagne gowns for the ladies, classic black tuxes for the gents) helped the brightly-colored florals and decor stand out even more.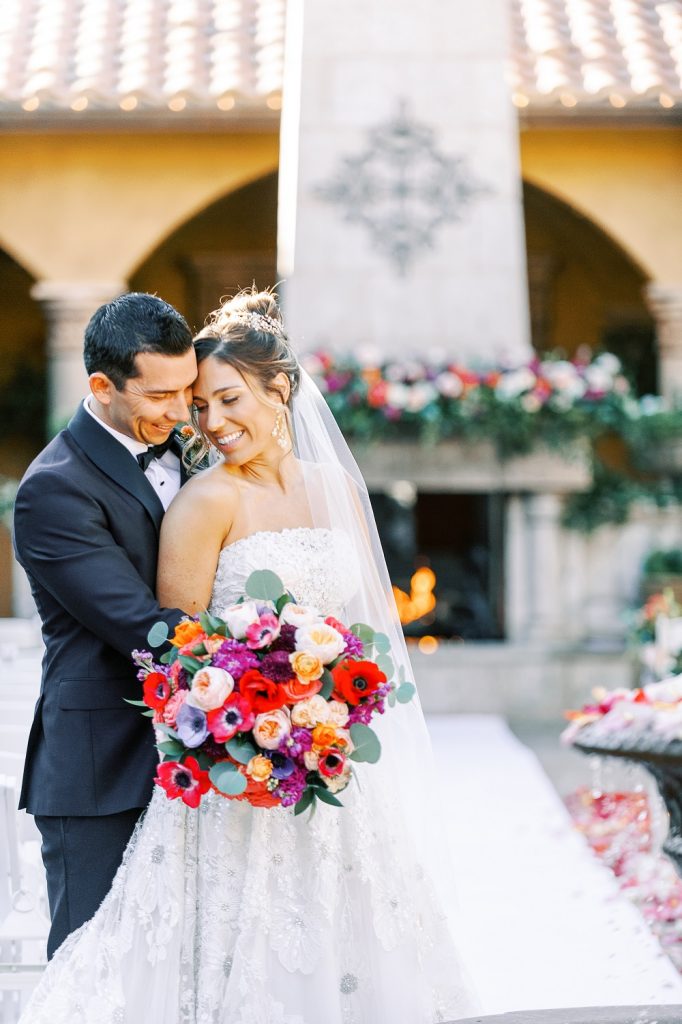 As for our guests of honor, they were looking their very best in their wedding day ensembles. Marcus was very handsome in his black tux and bright pink boutonniere, and Kimberly's strapless, a-line gown (which was covered in lace and beading in intricate floral patterns) was absolutely breathtaking!
The wedding took place outside in our Plaza Toscana. Marcus walked down the aisle with the couple's dog, Penny, at his side, while Kimberly was escorted down the aisle by her father. The ceremony was a traditional affair: the couple vowed to love each other forever, exchanged rings, and ended the event with a romantic kiss. Then, it was time to mingle with their loved ones and enjoy some delicious treats!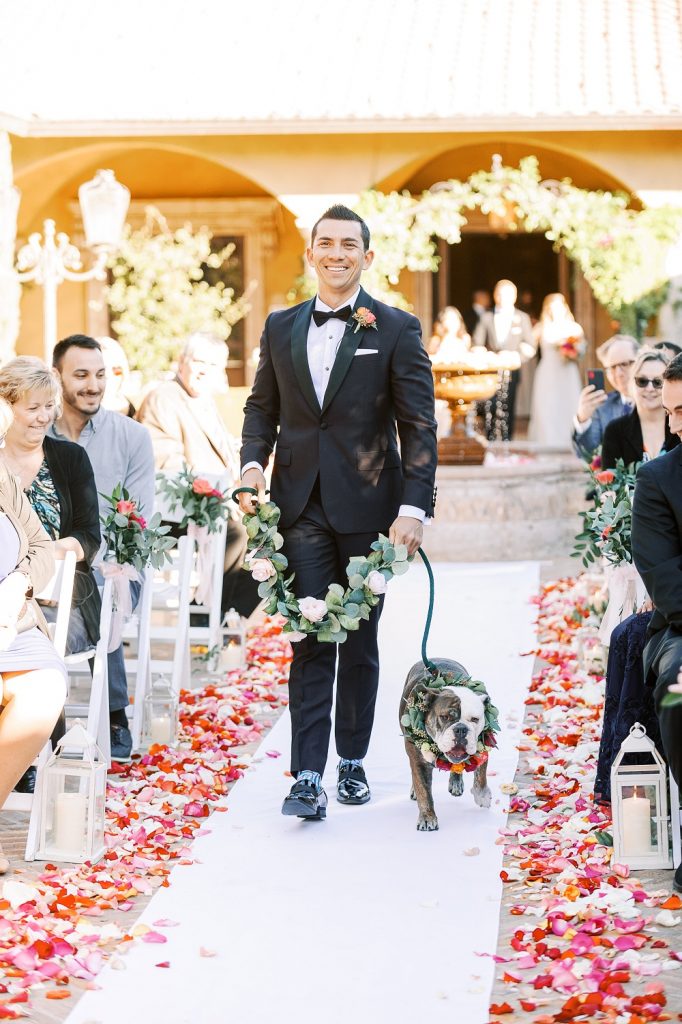 After the wedding, guests enjoyed coffee from a barista and snacks from a catered charcuterie board. Kimberly and Marcus cut their wedding cake — a three-tier masterpiece with strawberry and red velvet flavors — and chatted with the people nearest and dearest to them. As the evening wound down, guests signed a softball (in honor of the couple's first meeting) as their wedding guest book.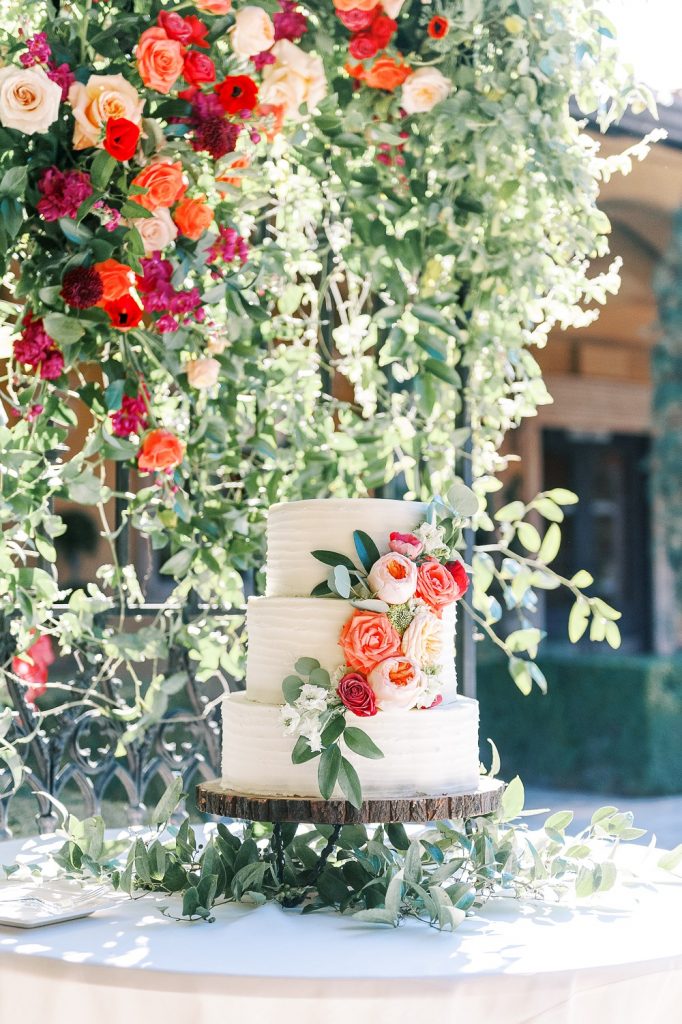 Marcus and Kimberly's wedding was a perfect reflection of the couple: bright, lively, and full of color! We wish these two all the best as they officially begin their happily ever after.
Photography By: Leslie Ann Photography