Eternal Love for Kimberly and Germaine
When Kimberly and Germaine met at the altar on their wedding day, their officiant gave them their "first gift" as a married couple. The gift was a pair of red roses, the symbol of eternal love. It was a beautiful way to begin their wedding ceremony — and an extra special touch to an already beautiful day.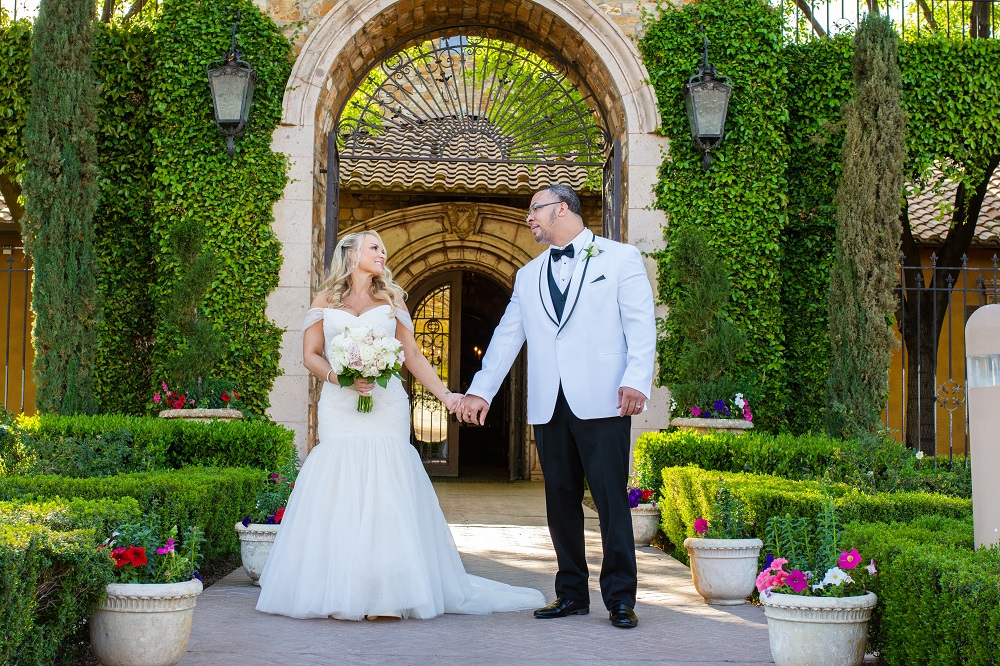 The couple's March wedding was a romantic and classy affair, decorated in pink and white roses and peonies. Our Plaza Toscana was decorated with white and pink florals, as well as a white aisle runner. Even the bride and groom were dressed in white for the occasion; while the bridal party wore black gowns and suits, Germaine wore a white suit jacket and Kimberly wore a stunning off-the-shoulder mermaid gown.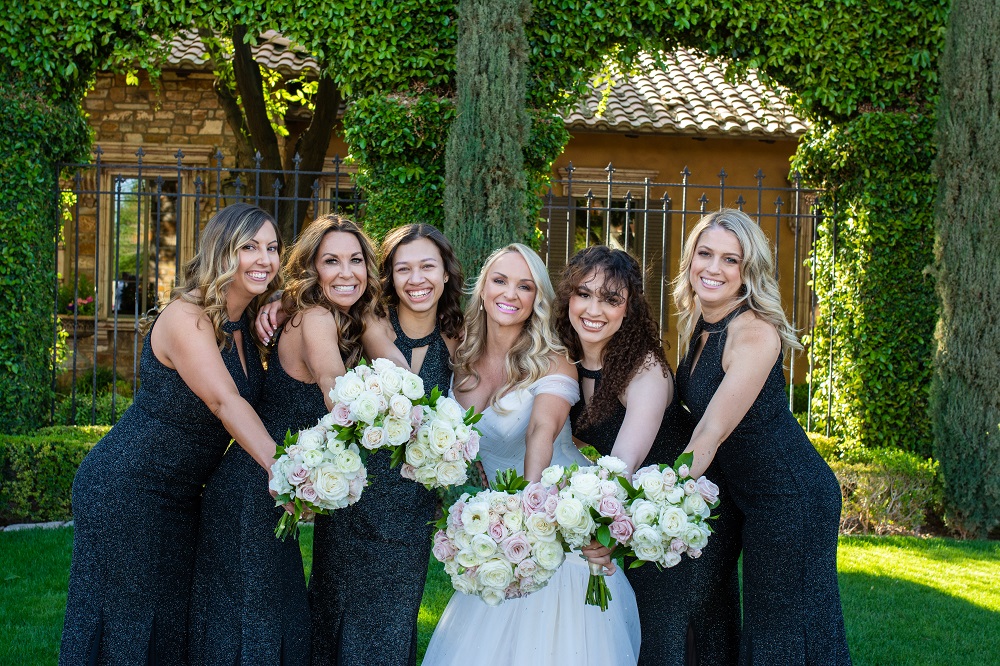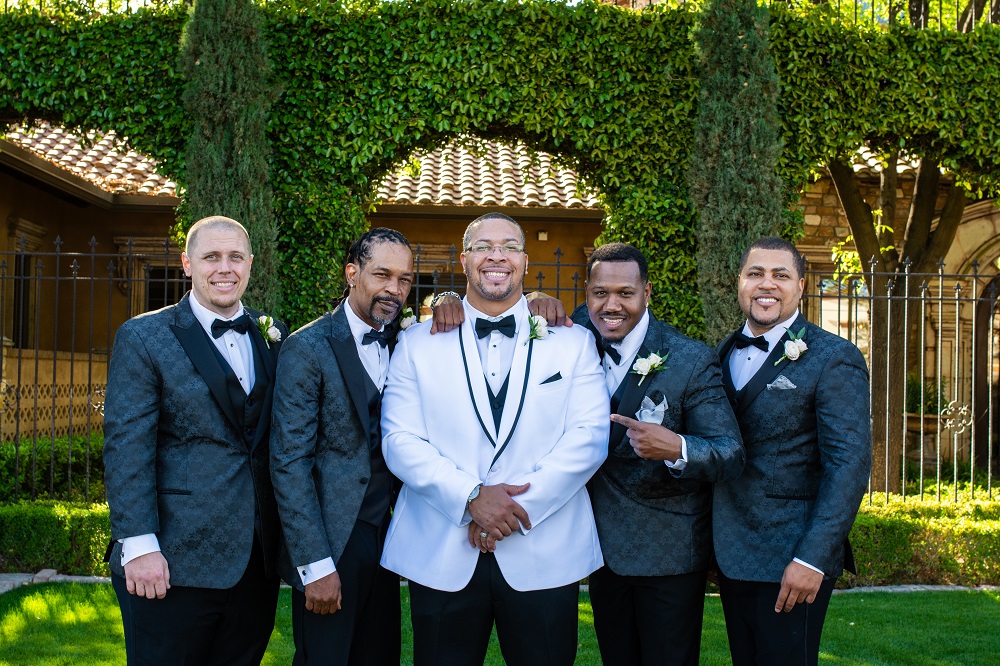 The wedding was also filled with heartfelt, personal touches. The couple's dog, Bentley, served as ring bearer, Kimberly carried a rosary down the aisle, and the couple left a seat open for the bride's late father. These little details made their traditional ceremony feel even more unique and special, and by the time Germaine kissed his bride, there was hardly a dry eye in sight.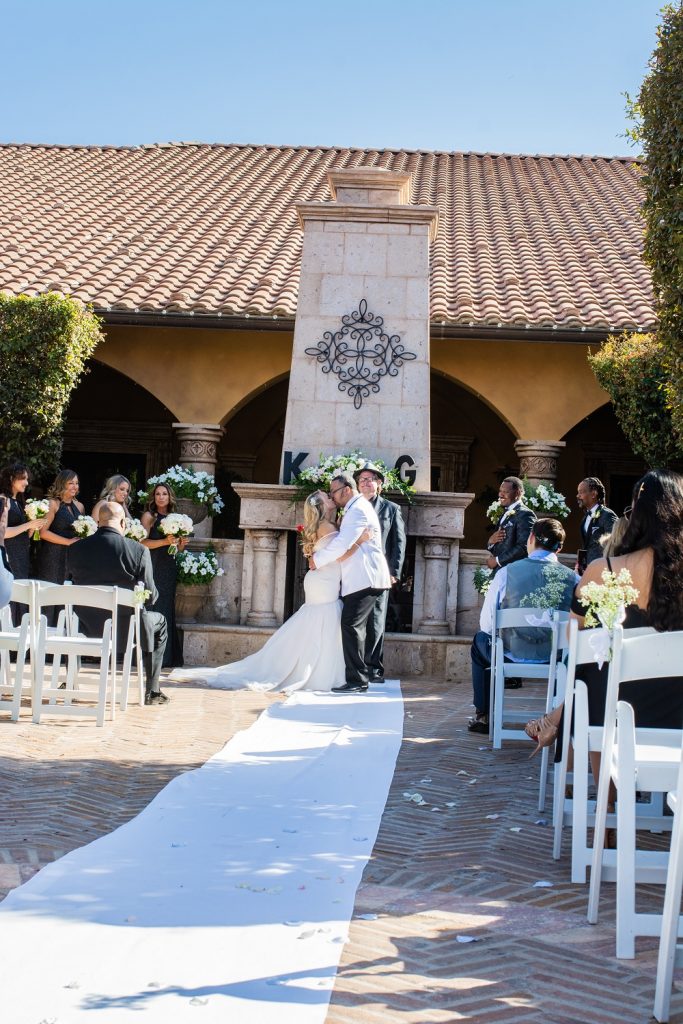 For the reception, guests moved inside and found their seats — where they were met with polaroid cameras to help them capture the memories with their tablemates. The newlyweds kicked off the party by dancing to Eric Benet's "Spend My Life with You," then Kimberly danced with her brother and mom (to "What a Wonderful World" by Louis Armstrong and "I Turn to You" by Christina Aguilera, respectively) and Germaine danced with his mother to Tupac's "Dear Mama."
Their guests enjoyed a dinner of mixed green salad, mashed potatoes, tortellini primavera, beef tenderloin in cognac cream sauce, and caprese chicken. Before long, everyone was working off their dinner on the dance floor, enjoying the time together and our lovebird guests of honor. It was a beautiful wedding, and we believe it was the perfect way to celebrate the eternal love of Kimberly and Germaine.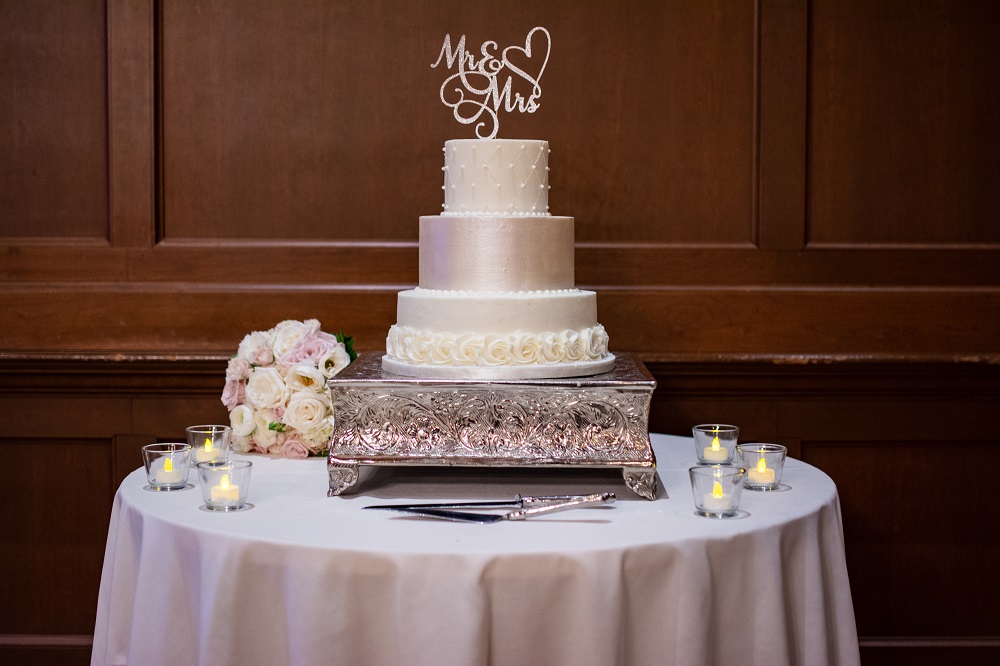 Photography By: The Glare Photography