A "Dark Valentine's Day" for Julie and Matthew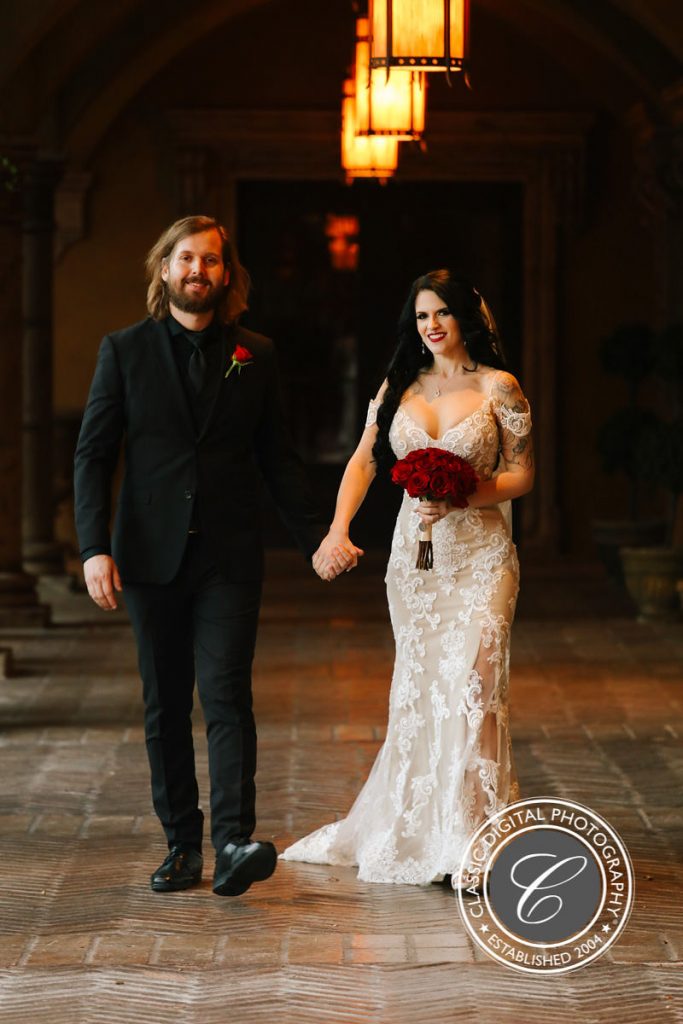 Julie and Matthew are a couple who love everything dark, mysterious, and macabre, so it's no surprise that their gothic-themed wedding was a perfect blend of romance and spookiness.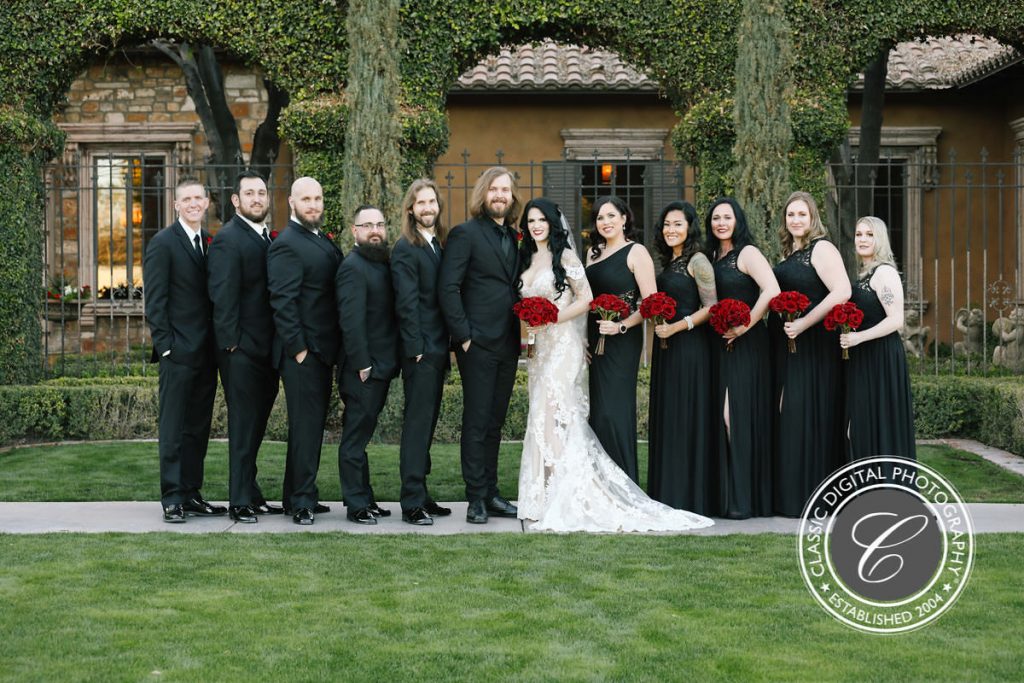 The wedding had a stunning color palette of red and black, with both the bridesmaids and groomsmen dressed head-to-toe in the latter. The bridal party rounded out with a few adorable flower girls in light gray dresses and the bride and groom themselves.
Matthew wore a black suit, black shirt, and black tie (you might sense a theme here), and his dark ensemble only made Julie stand out even more.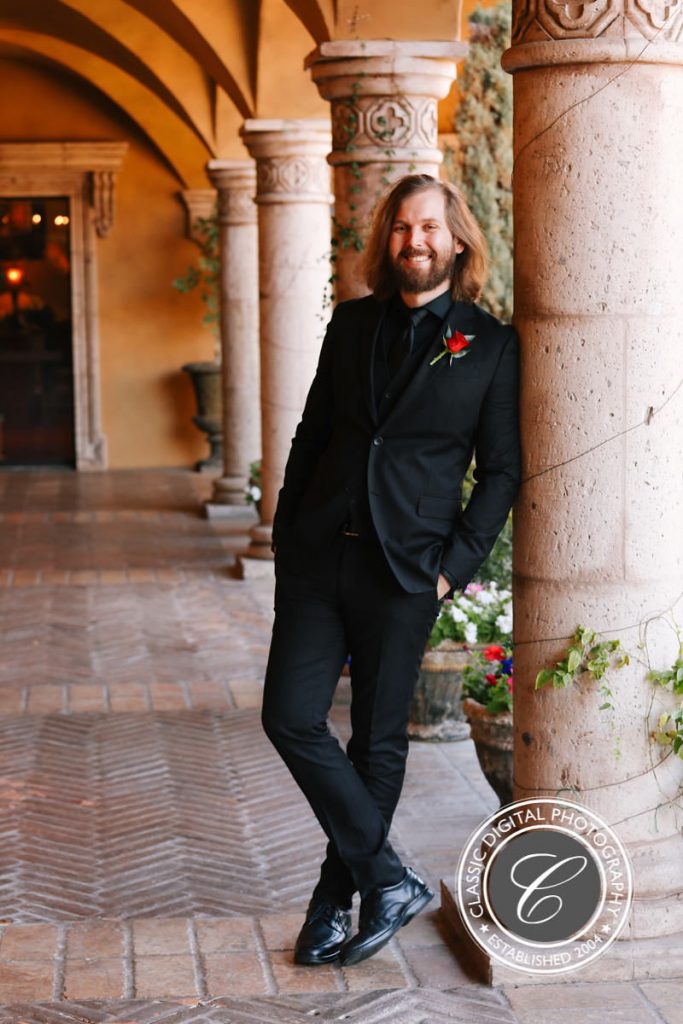 She wore a breathtaking nude-colored, off the shoulder gown covered in a delicate lace overlay, complete with an embroidered, knee-length veil.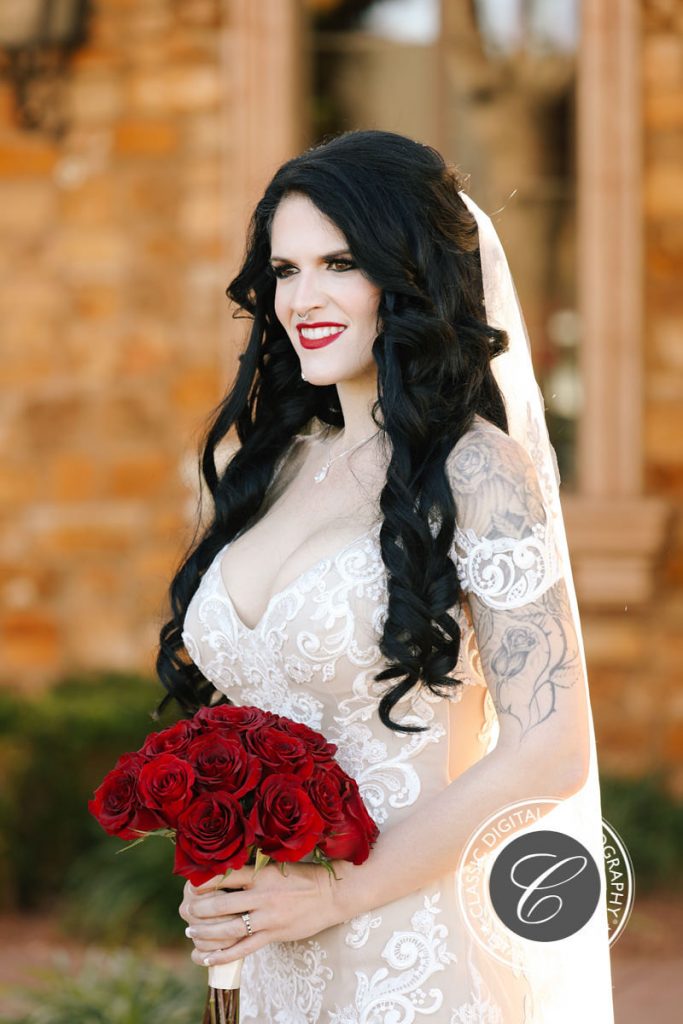 The couple's ceremony space (the Piazza Toscana) was decorated with red roses and a black and white striped aisle runner.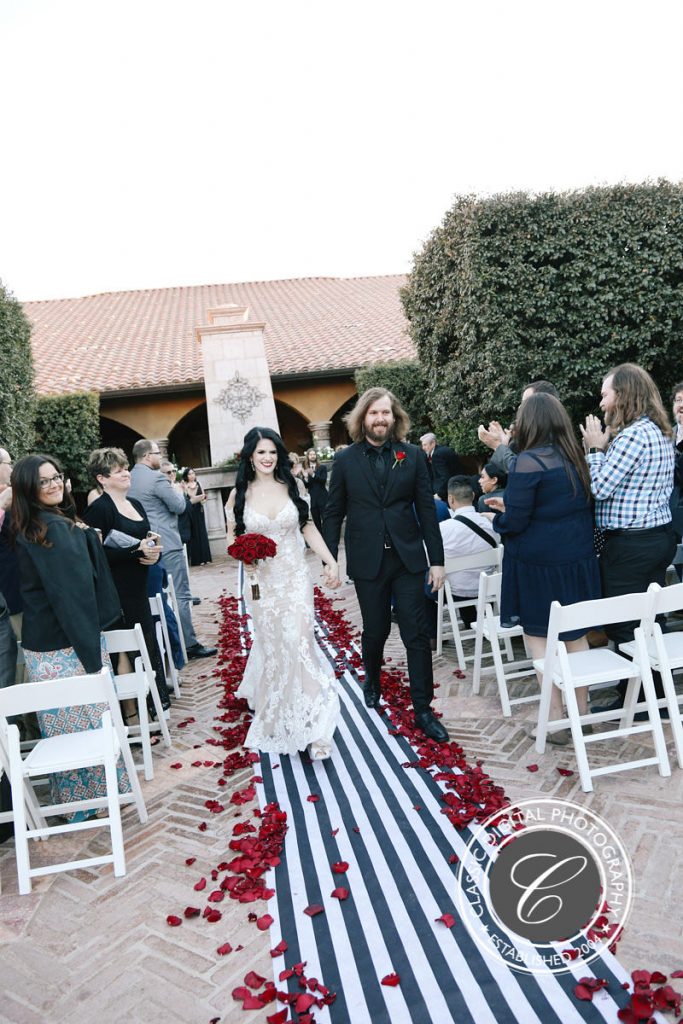 The ceremony was a very personal one; the officiant recounted Julie and Matthew's and stressed the importance of family (particularly Julie's children) and the role they will play in the newlywed's lives. Before long, these two were officially wed, and everyone was on their feet with applause!
During the reception, Julie and Matthew took their spooky theme to the next level. Black linens, red roses, and skeleton sculptures decorated every inch of the room! However, the couple also showed off their silly side with a photo booth filled with fun props.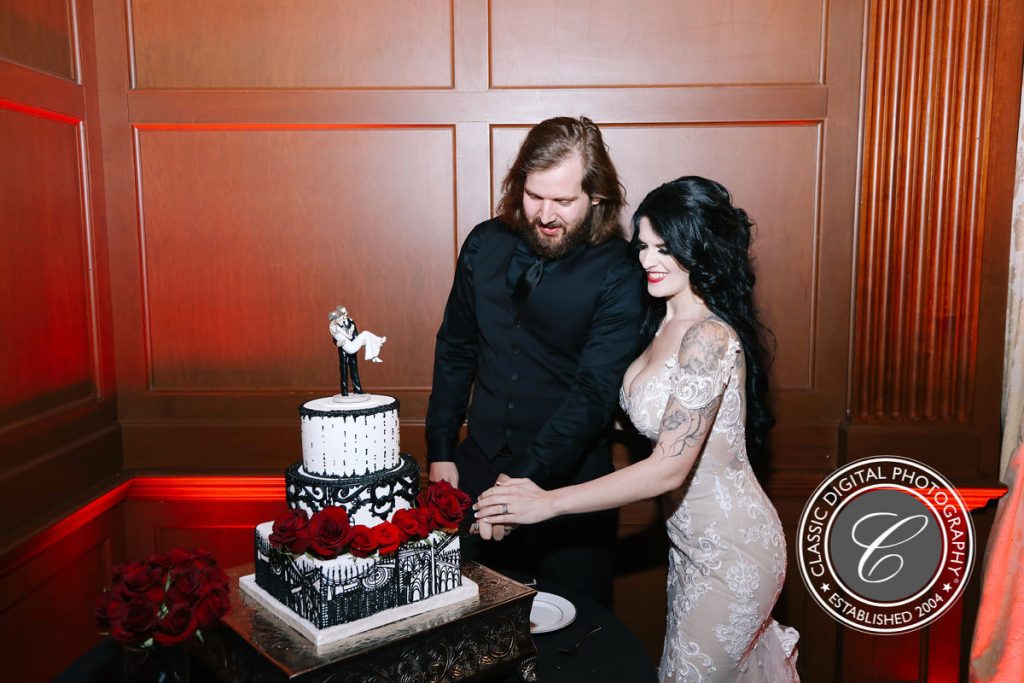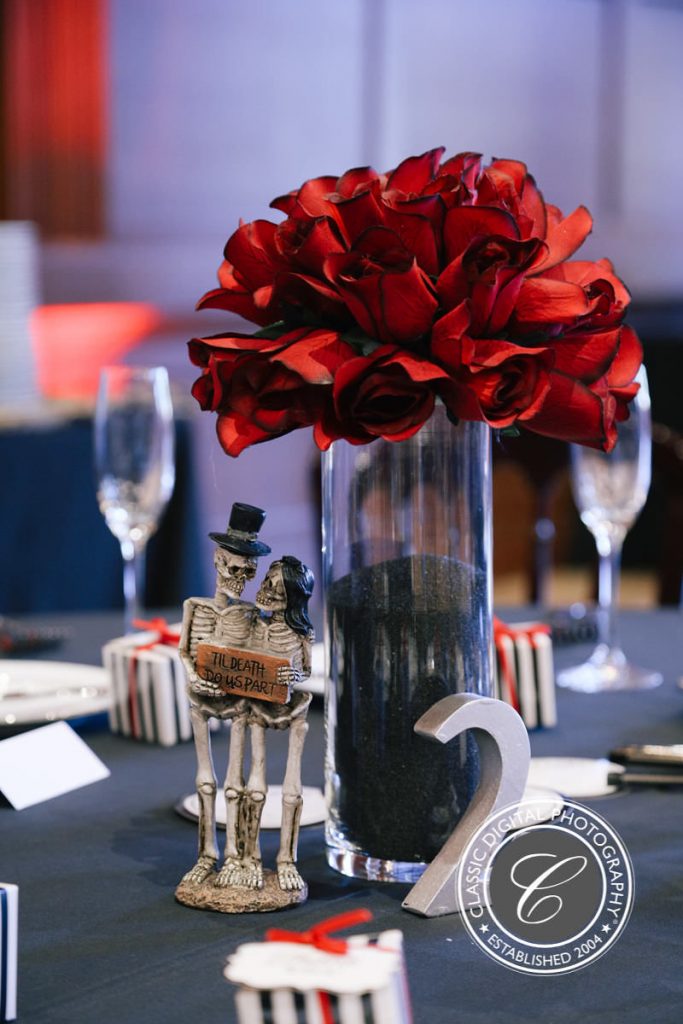 The reception kicked off with a few dance numbers: Julie and Matthew danced to 311's "Lovesong," Julie and her father danced to "Landslide" by Fleetwood Mac, and Matthew and his mother danced to the Beatles' "In My Life."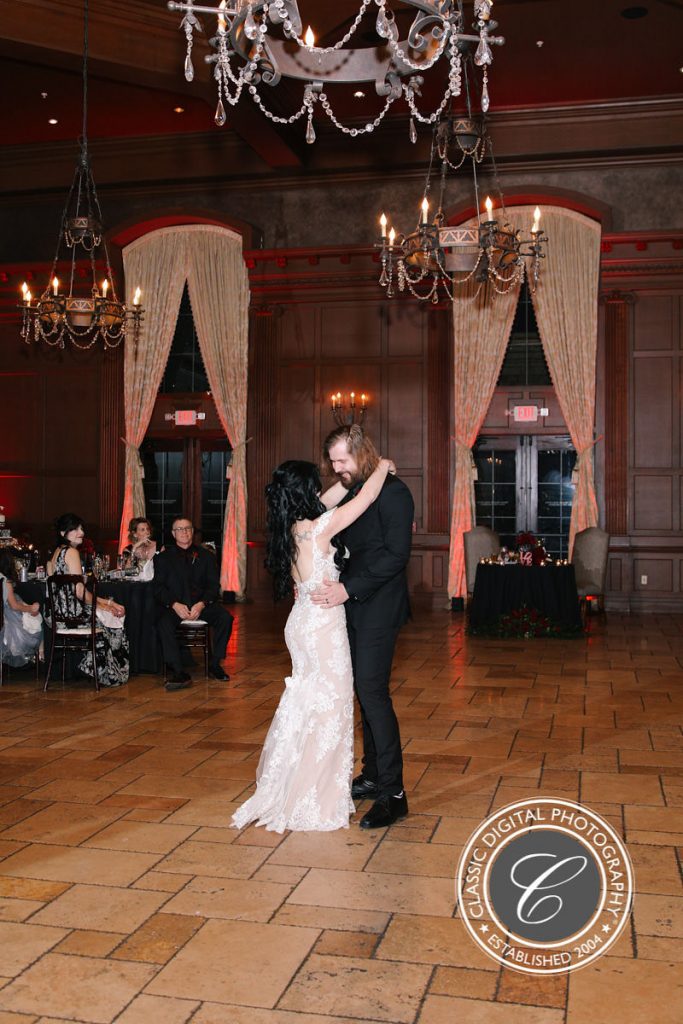 Guests found their seats and sat down to a delicious meal of Caesar salad, twice baked potatoes, chicken, and cheese tortellini. Then, it was time to hit the dance floor and party the night away! 
From the first dance to the sparkler exit, it was clear that Mr. and Mrs. Ciccarone are bold, original, and unafraid to be themselves.
We had so much fun working on their wedding, and we wish them happiness and love… "till death do they part!"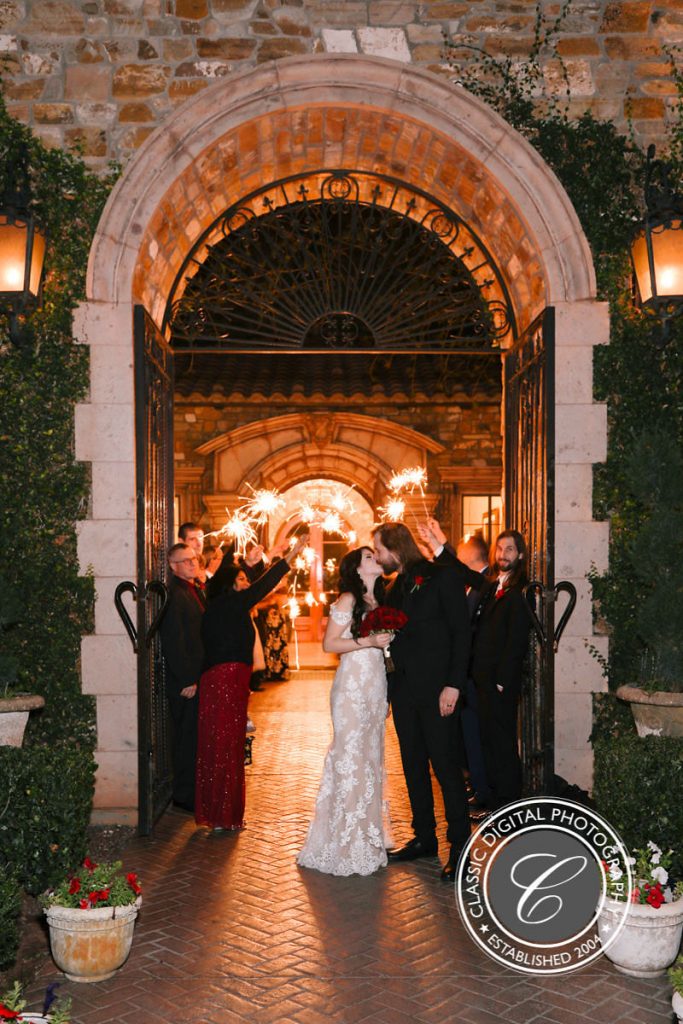 Photography by Classic Digital Photography