One Year Together, A Lifetime to Go: Johanna and Parker
Johanna and Parker wanted to do something really special for their one-year anniversary… so, they got married! We were delighted to host their wedding here at the Villa, and their March ceremony was a fun, romantic, and beautiful event.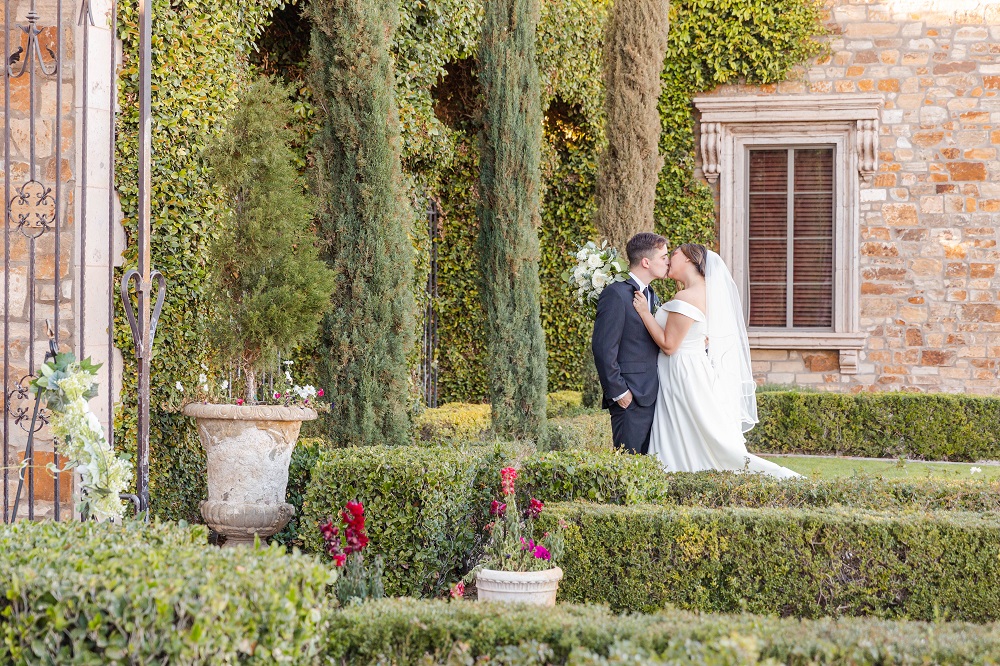 The couple chose a classic red and white theme for their special day. The bridesmaids wore red gowns in assorted styles. The groomsmen wore black suits with red ties. We even decorated the Plaza Toscana with a red aisle runner, red and white florals, and large white letters that read "H & P." Everything was lovely — but of course, nothing was quite as beautiful as our bride and groom. Parker looked sharp in his classic black suit and black tie. Johanna was beautiful in her satin, off-the-shoulder gown and knee-length veil. And best of all, these two sweethearts beamed at one another throughout their big day, and it was clear that they were truly in love!
Parker's brother Vincent officiated the ceremony. He asked if Johanna and Parker were "ready to take this next step together," and the answer was (of course) yes! They exchanged rings and vows they wrote themselves, and soon enough Johanna and Parker were husband and wife. Then, it was time to everyone to head inside for the reception.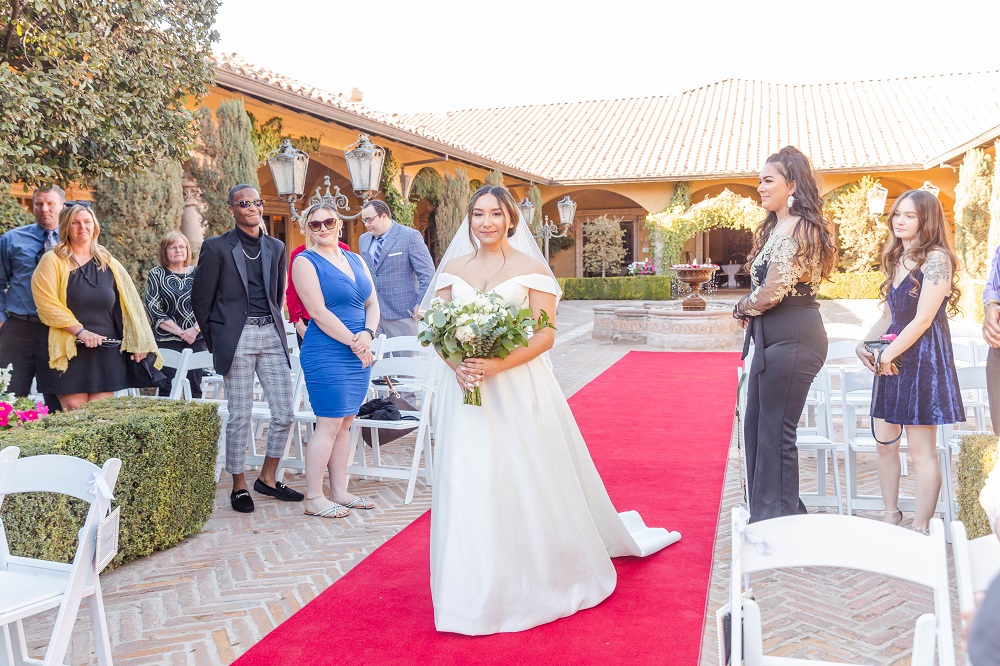 In lieu of a guest book, the couple asked their friend and loved ones to sign bottles of wine they planned to save for milestone wedding anniversaries. Once everyone signed and found their seats, the newlyweds kicked off the reception by dancing to "Lucky in Love" by Jason Mraz and Colbie Callat. Then, everyone enjoyed a delicious meal of caesar salad, spinach and feta salad, creamy artichoke pasta, penne with red sauce, and chicken pasta with sun-dried tomatoes courtesy of Babbo Italian Eatery.
The reception was joyful, lively, and lots of fun. Johanna and Parker were all smiles all evening — and we believe that this special day was just one of many happy anniversaries to come.
Photography By: Leslie Ann Photography