They Call it "Puppy Love"
Genna and Daniel were just youngsters when the met in their high school history class, but they have a love that's built to last. And this year, they celebrated 2019 by tying the knot right here at the Villa! Their traditional ceremony was beautiful and sweet, with a few unique twists that reflected the couple's fun personalities.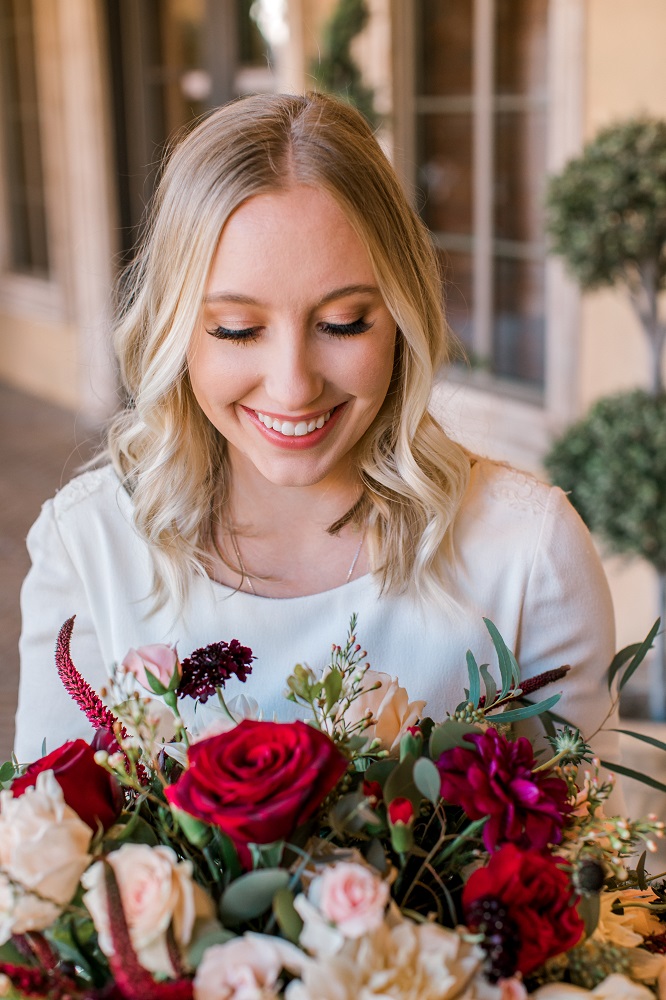 Genna and Daniel chose a burgundy, blush, and green color scheme for their special day. Genna was glowing in a fitted white gown with long sleeves, a long train, and open back covered in lace. This simple style really made the details in her bouquet stand out, and she looked absolutely lovely. Daniel also looked smart in a black suit and button-down shirt, with a red rose boutonniere and burgundy bow tie for a pop of color.
Burgundy was the primary color for the bridal party, too; the groomsmen all wore matching black suits with burgundy ties and pocket squares and the bridesmaids wore long burgundy dresses. The bridal party also had one other member: Genna and Daniel's golden retriever Daisy, who won over the hearts of every guest with her cute face and wagging tail.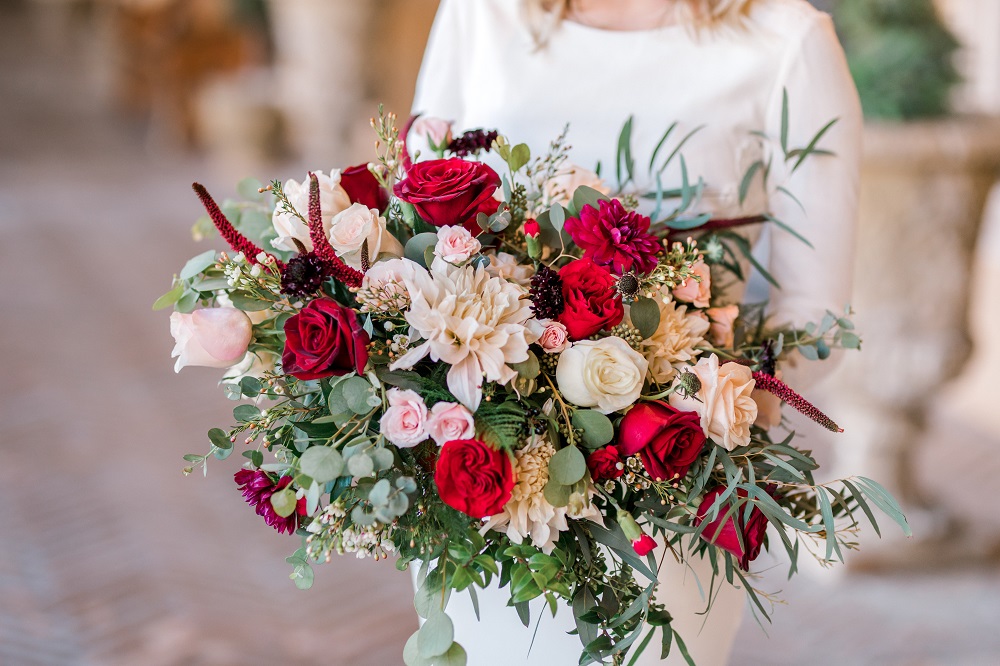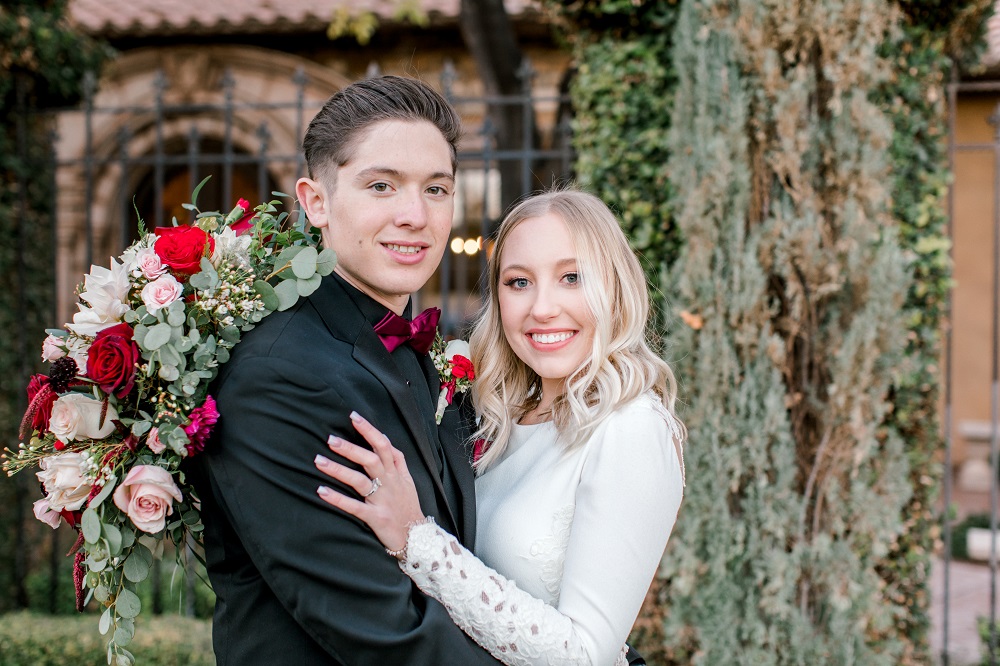 The couple had a traditional wedding ceremony, with prayers for the couple, scripture readings, and the exchanging of vows and rings. Then, guests were treated to a cocktail hour complete with delicious appetizers — german meatballs in burgundy cream sauce and antipasto kabobs (black olive, salami, provolone, and cherry tomatoes) — before heading inside for the reception.
During the reception, guests chatted and laughed over a meal of green beans, potatoes au gratin, and sliced beef tenderloin with cognac cream sauce and horseradish aioli. In lieu of a cake, the couple had glazed donuts from a "donut tree," which was a huge hit with the guests!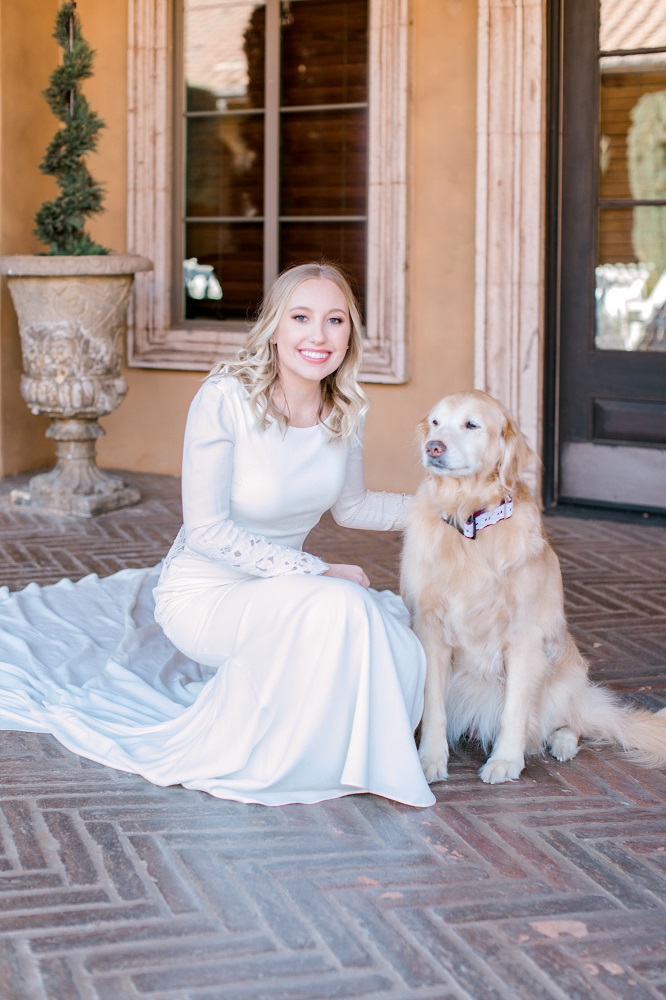 The evening was also full of dancing, including Genna and Daniel's first dance (to Hayley Reinhart's "I Can't Help Falling in Love with You") and the couple's dances with their respective parents — Genna and her father danced to "Cinderella" by Steven Curtis Chapman and Daniel and his mother danced to "My Wish" by Rascal Flats. As the night went on, it was clear that this young couple had a huge, loving group of family and friends, and that Gemma and Daniel (and Daisy) have many years of wedded bliss ahead of them.
Photography by: Brooke Magee Photography