Mark and Holly, who met at work, became man and wife on October 26, 2021.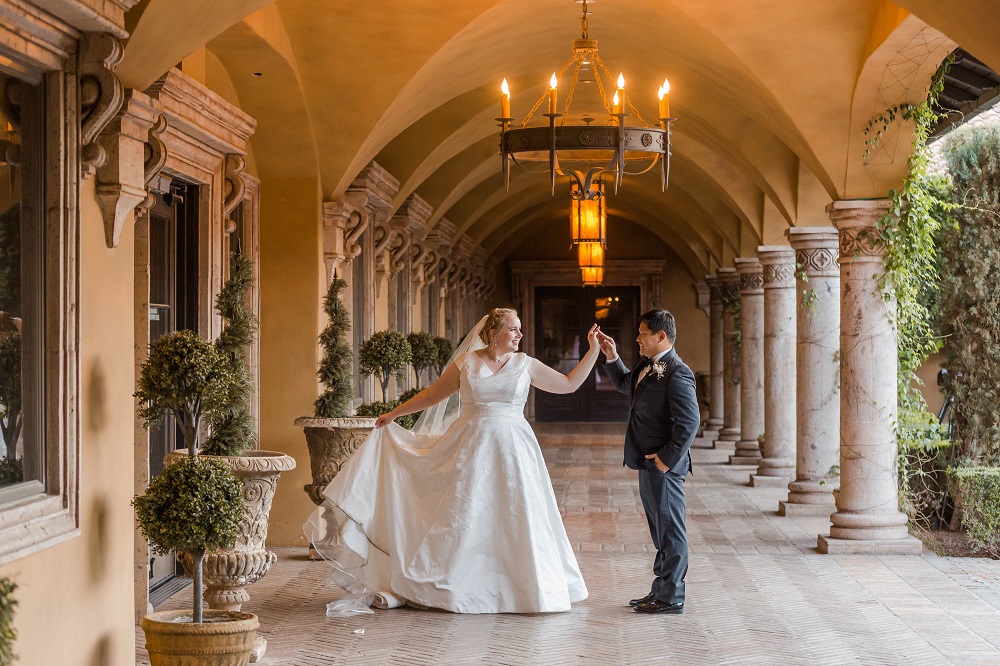 Holly wore an elegant white ballgown with short sleeves, a V neckline, and a full skirt with a train. She accessorized with a crystal necklace and a full-length veil. Her cascade-style bouquet was composed of roses in pale hues accented with eucalyptus and other botanicals. Her three bridesmaids wore matching pale pink, floor-length dresses with flutter sleeves. They carried smaller versions of the bride's bouquet.
Mark got married in a classic black tuxedo with a white shirt, black bow tie, and mini bouquet boutonniere. His two groomsmen dressed to match him.
In the ceremony, Holly and Mark read personal vows to each other and lit a unity candle to signify the joining of their lives.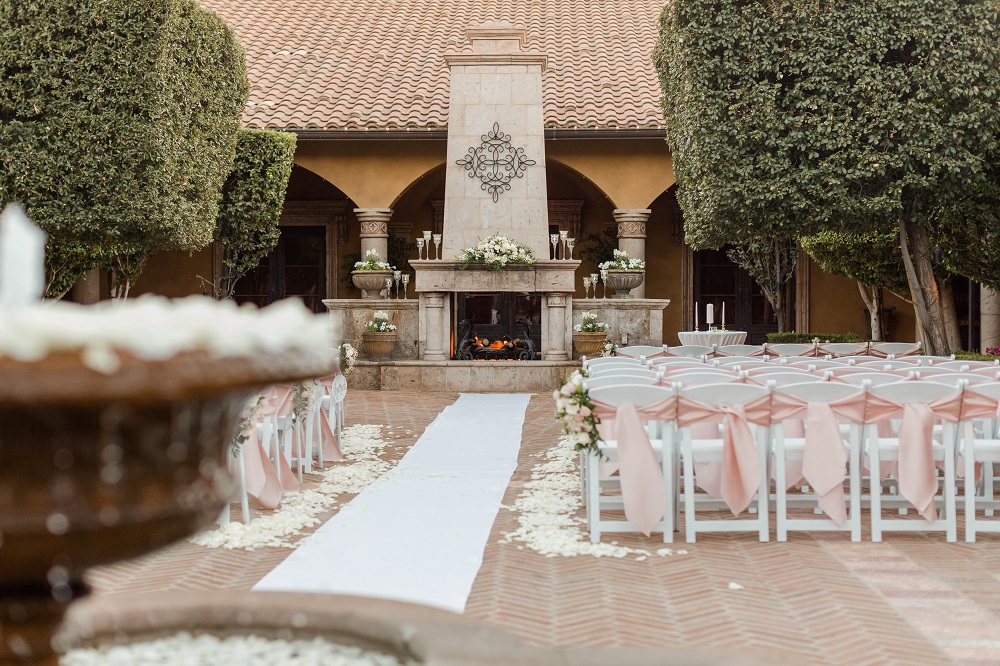 Next, guests enjoyed a meal of baby greens wrapped in cucumber strips with mandarin oranges, fresh berries, crumbled feta cheese, sugared walnuts, and a raspberry vinaigrette; twice-baked potatoes; angel hair pasta with pesto sauce; caprese chicken; and herb-crusted pork loin.
During the speeches, the maid of honor, the bride's sister, shared memories of trips they'd taken and talked about how Holly has always looked out for her. One of the groomsmen spoke about how kind and giving Mark is. Holly's father thanked the guests for coming and spoke about how helpful Mark is and how he knows his daughter is married to a great man.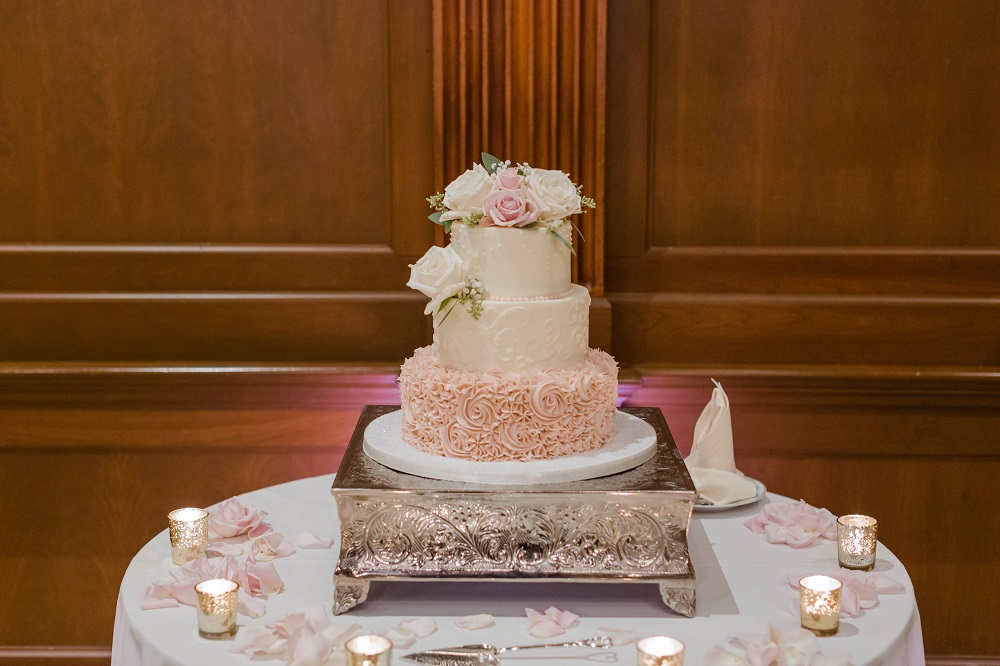 Holly and Mark's first dance was to a song by Ed Sheeran. Holly and her father danced to "My Wish" by Rascal Flatts. Other wedding fun included a couple dance, a string quartet during the ceremony and cocktail hour, and a bouquet toss.
The three-tier wedding cake had a bottom layer done in pink frosting with a rose design. The top two layers were done in white-on-white decoration. The cake was accented with white and pink roses.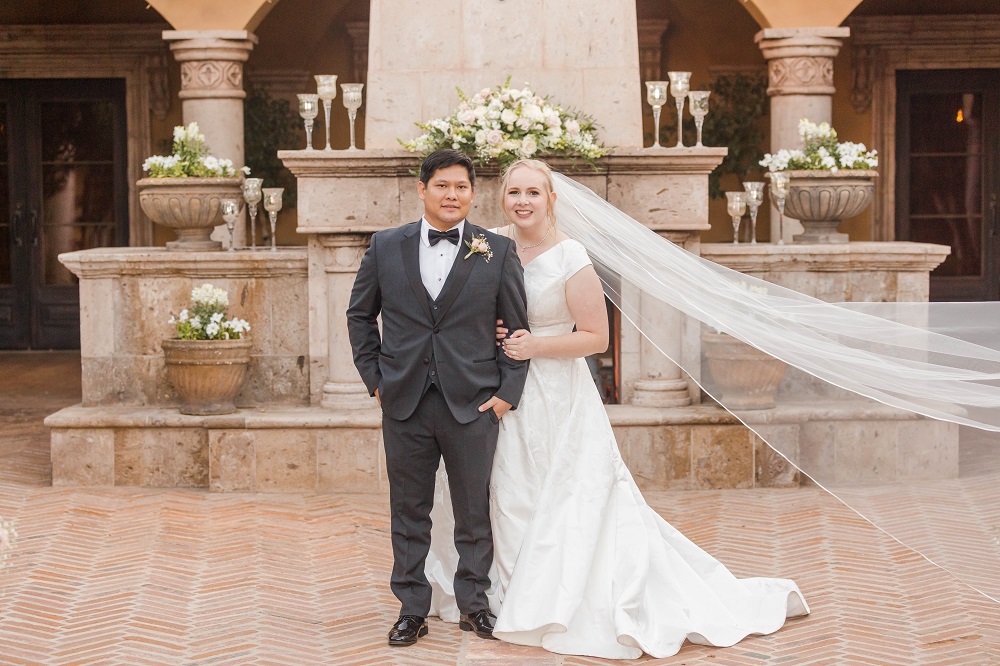 Holly and Mark left their special day under the signature sparkler exit.
We wish the newlyweds a long and happy life together!
Photography By: Leslie Ann Photography