Genevieve and Joyner tied the knot on January 14, 2022.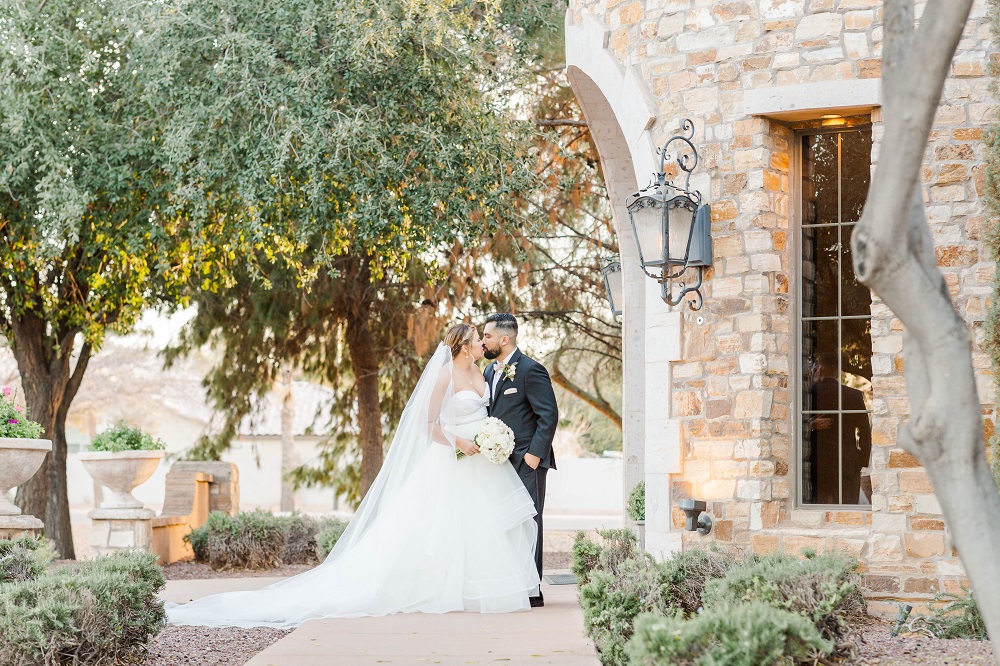 Genevieve looked gorgeous in a strapless ballgown with a sweetheart neckline, jeweled belt detail, and full tiered skirt. Her accessories included a pearl bracelet, pendant necklace, drop earrings, and full-length veil. Her bouquet was composed of white flowers including roses and anemones. Her five bridesmaids wore champagne-colored full-length dresses with spaghetti straps and V necklines. They carried smaller versions of the bride's bouquet.
Joyner wore a classic black tuxedo with a black vest, white shirt, champagne-colored bow tie, champagne-colored pocket square, and mini bouquet boutonniere. His five groomsmen wore classic black tuxedos with white shirts and champagne-and-gold striped ties.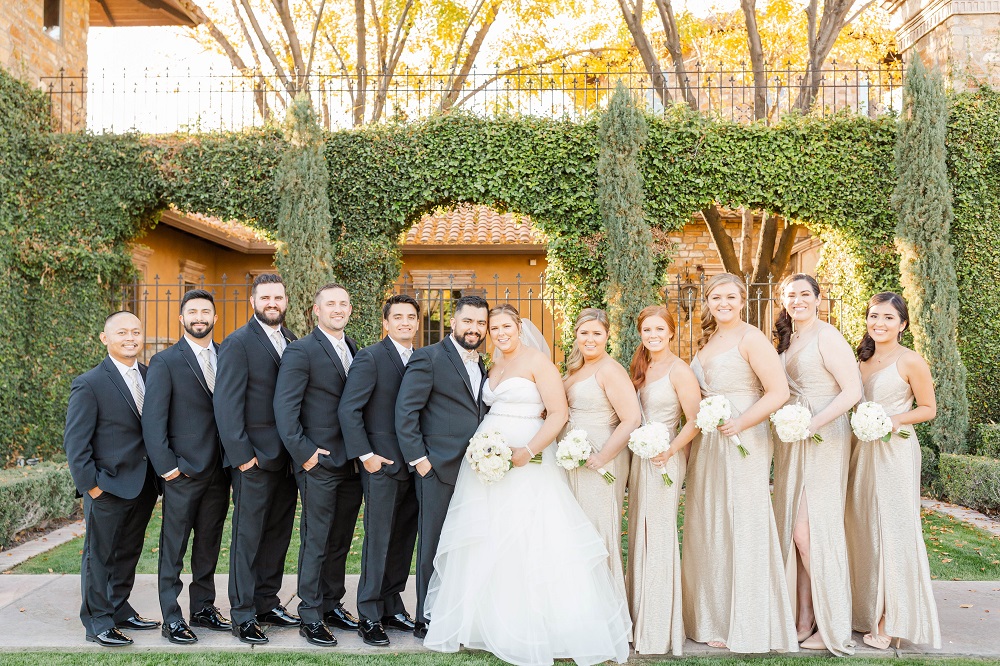 After an off-site ceremony, guests arrived at Villa Siena for a meal of caprese salad; creamy Parmesan risotto; fresh green beans; grilled Atlantic salmon; and flatiron steak. The signature cocktails were a margarita and whiskey with Sprite.
During the speeches, the best man, the groom's brother, talked about how the groom has always looked for him. The best man, the bride's sister, spoke about how amazing her sister is, how happy the groom makes her sister, and how thoughtful and caring the groom is. Genevieve's father told stories about the bride and groom. The newlyweds thanked their guests for coming, and thanked their parents and the bridal party.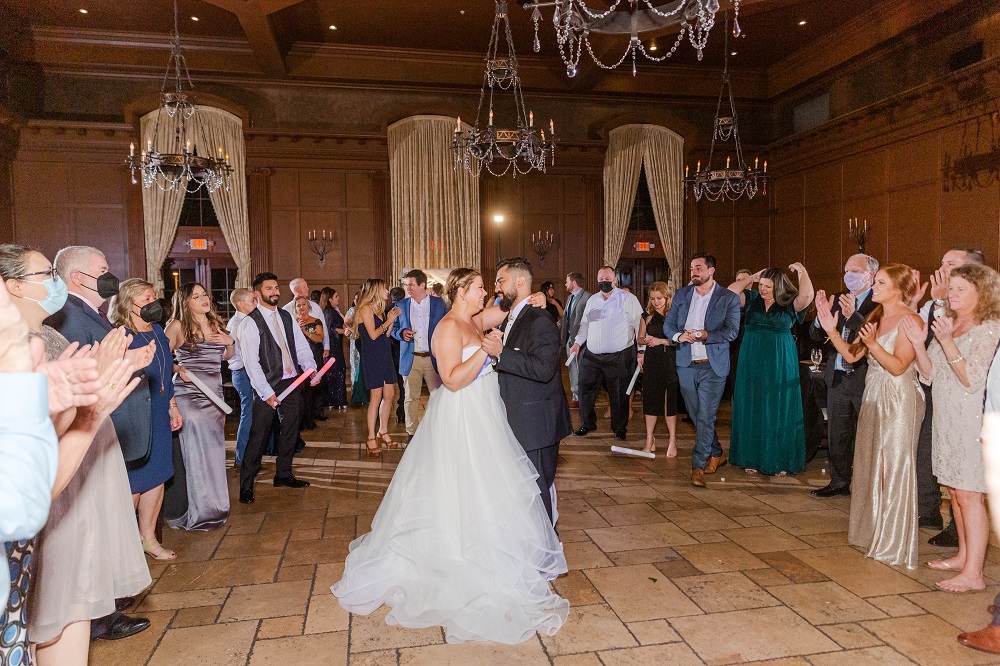 Genevieve and her father, and Joyner and his mother danced to "Here Comes the Sun." Other wedding fun included light-up foam sticks for dancing, film cameras on the tables, an anniversary dance, and a bouquet and garter toss.
The four-tier white wedding cake had a brushed gold look on the bottom edge of each level. It was decorated with white roses and topped with an ornament bearing the couple's last name.
Joyner and Genevieve left their special day under the signature sparkler exit.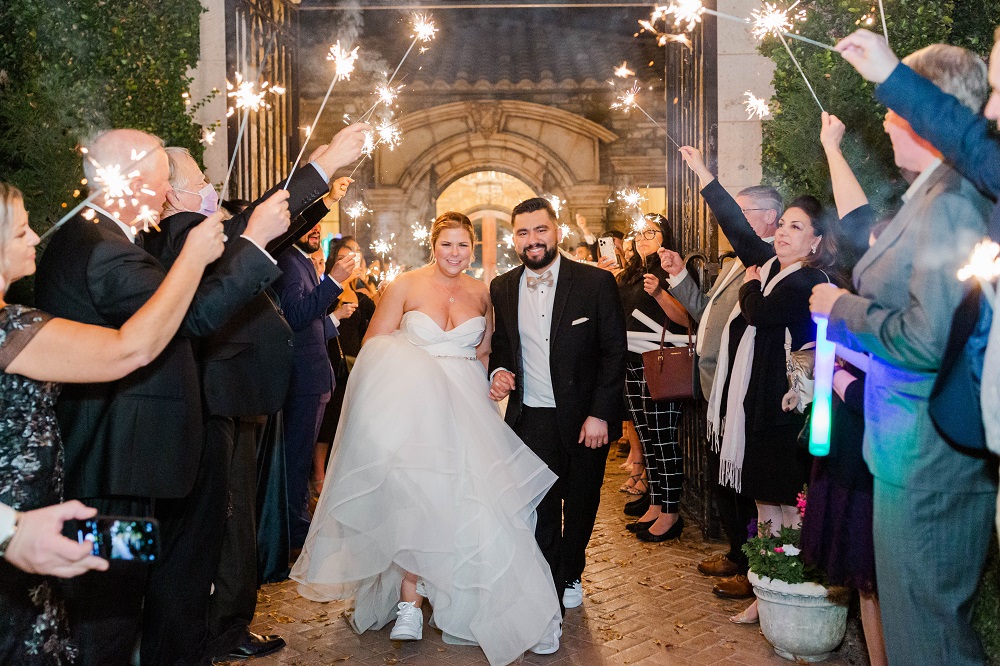 Best wishes to this wonderful couple!
Photography By: Leslie Ann Photography