James and Erin became man and wife on March 17, 2018.

Erin looked lovely in a strapless A-line gown with an embellished bodice and overlay. Her accessories included a full-length veil. Her colorful bouquet incorporated a variety of blooms in shades of white, blue, purple, red, and black. Her five bridesmaids wore individual full-length dresses in a variety of jewel tones, and carried smaller versions of the bride's bouquet.
James got married in a black tuxedo with a black vest, white shirt, black tie, white pocket square, and double white rose boutonniere. His side of the bridal party was composed of men and women; the three men wore three-piece black tuxedos with black ties, white pocket squares, and black lily boutonnieres, and the two women wore full-length black dresses and carried bouquets to match the bridesmaids.

During the ceremony, the officiant told the couple that they'll never be too old to hold hands.
Next, guests dined on spring mix with spinach, strawberries, apples, grapes, feta cheese, pecans, and poppy seed vinaigrette; grilled boneless chicken breast filled with prosciutto and provolone cheese in lemon beurre blanc sauce; herb-crusted pork loin with Champagne, mustard, and apricot glaze; herb-roasted red potatoes with fresh herbs and olive oil; and tortellini primavera in Alfredo sauce.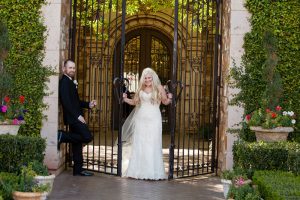 In the speeches, the best man advised the newlyweds to never go to bed angry. The matron of honor said that she and the bride are more like sisters than friends. The groom's mother told the bride that her son had hand-picked her to cherish, love, and become part of their family. The bride's parents said that James is the best thing to ever happen to Erin, and they extended the newlyweds their best wishes for peace, love, and happiness.
Erin and James shared their first dance as a married couple to "Love Song" by 311. Erin and her father danced to "What a Wonderful World" by Louis Armstrong, and James and his mother danced to "Simple Man" by Lynyrd Skynyrd.
The four-tier white wedding cake had a gold decoration along the bottom of each tier and large geode cutout in the center.
We wish the happy couple a long and joyful marriage!