A Beautiful Day for the Bergs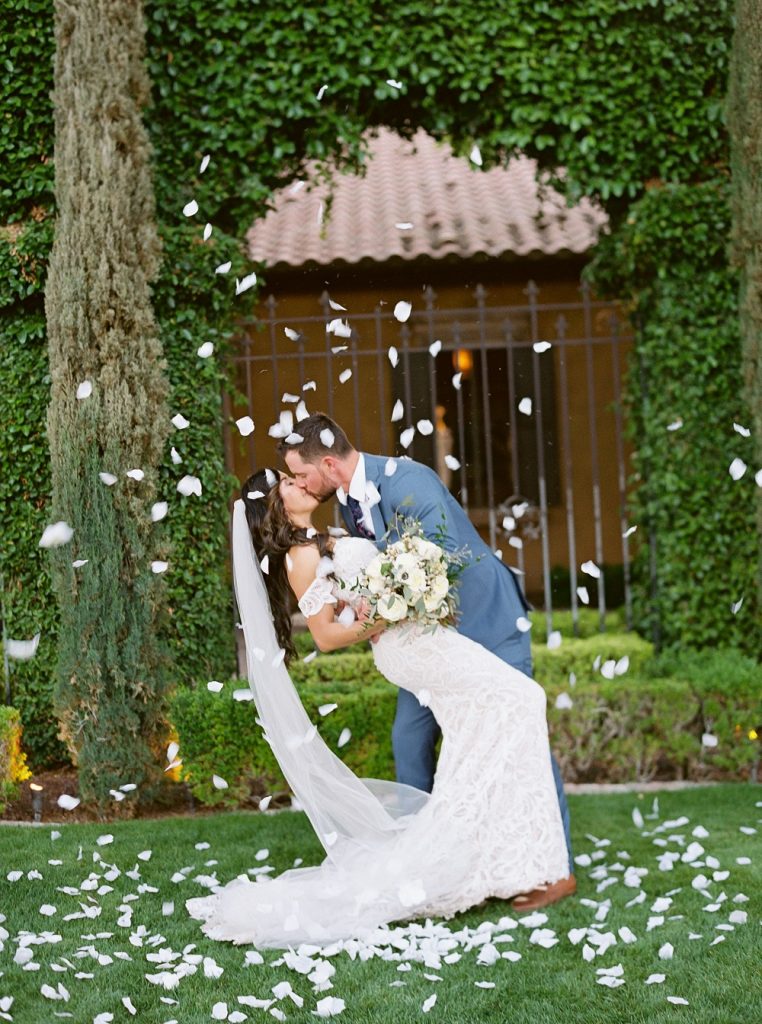 Erika and Mitchell's April wedding was a classic, timeless affair, complete with a gorgeous blush and navy blue color scheme. On the big day, our Plaza Toscana was filled with flowers: pale pink roses, white carnations, and a mix of white and pink hydrangeas. This pretty pastel scene only made the bridesmaids stand out more in their lovely navy gowns, as well as Mitchell and his groomsmen in their navy suits.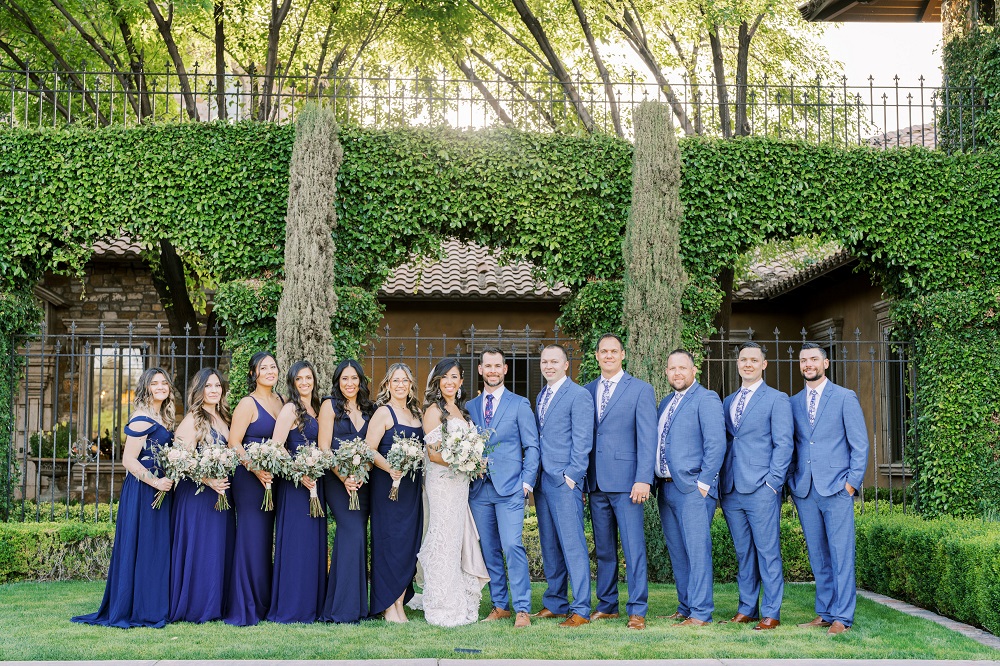 Of course, the most lovely member of the bridal party was Erika. Her off-the-shoulder lace gown was stunning, and the cathedral-length veil and sparkling jewelry added drama and elegance to the look. As she walked up the aisle she was positively beaming, and it was clear that she was walking towards the love of her life.
The couple's friend Christine officiated the ceremony. It was simple and sweet: Erika and Mitchell exchanged vows and rings and then sealed their union with a kiss. Then, the Plaza Toscana was converted from our ceremony space to an alfresco reception hall, and the party really began!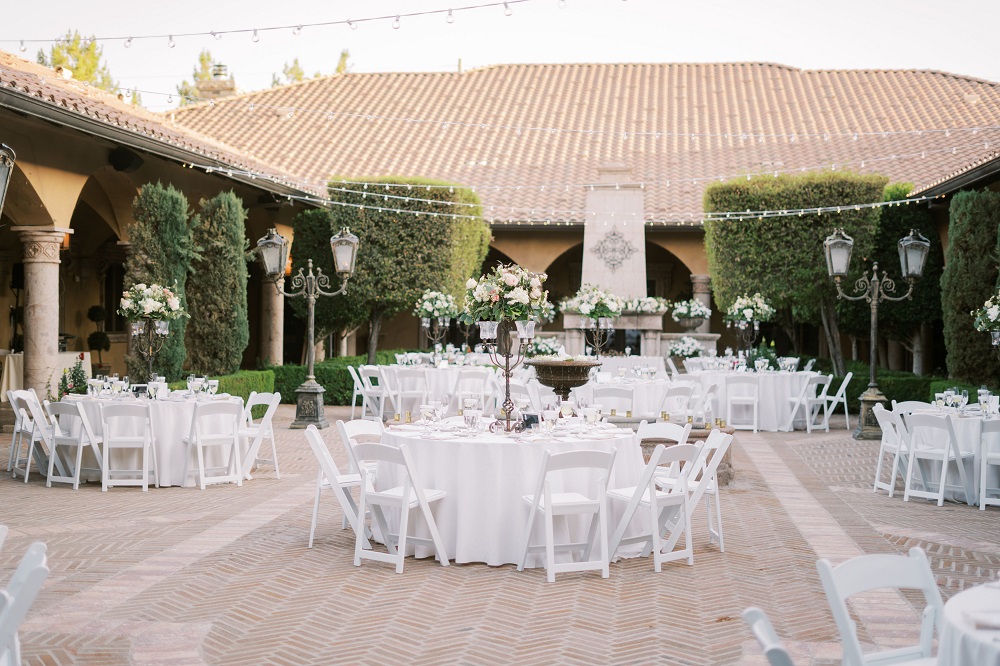 As the reception kicked off, Erika and Mitchell shared their first dance to Carrie Underwood's "Heartbeat," before splitting up briefly to dance with their parents — Mitchell and his mother danced to "Humble and Kind" by Tim McGraw, and Erika and her father danced to "My Baby You" by Marc Anthony and Juan Luis Guerra.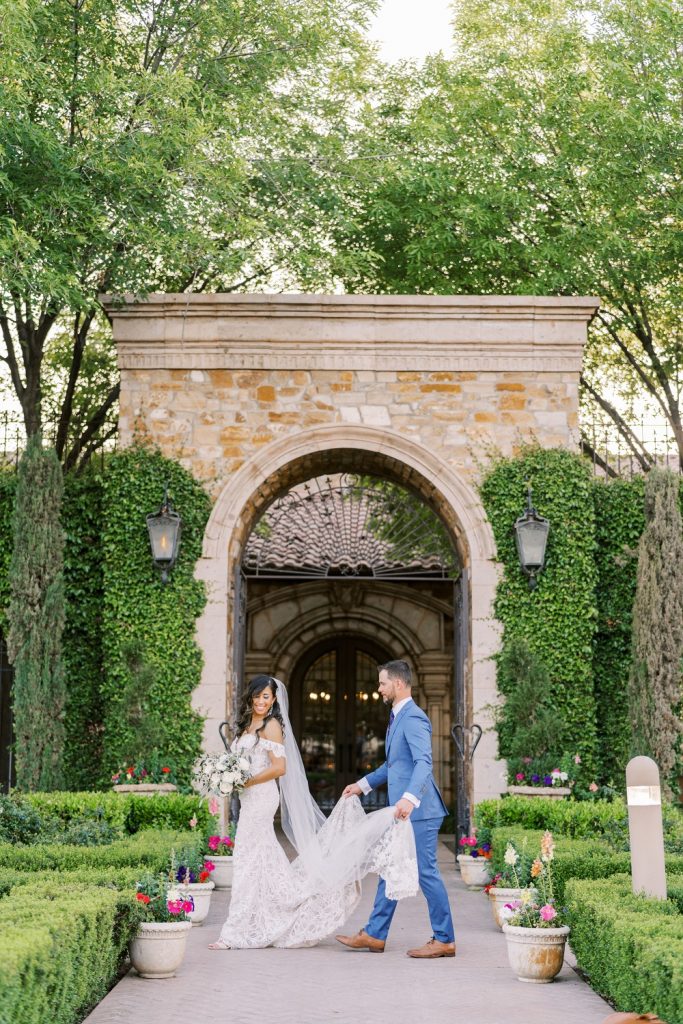 Guests enjoyed a meal of Caprese salad, filet mignon with burgundy bordelaise, grilled chicken breast in an herb glaze, and sides of potatoes and wild rice and quinoa blend. And if all that wasn't enough, there was the dessert table: cupcakes, macaroons, cake pops, cups of strawberry mousse, and of course one cake with a "Mr. and Mrs. Berg" topper!
Throughout the evening, the newlyweds and their guests danced, chatted, took photos in the photobooth, and generally celebrated Erika and Mitchell's love story. It was a beautiful wedding, and the start to a beautiful life together!
Photography By: Ashley Rae Photography