Delfinia and Michelle, who got a kick out of each other when they met at a jiu-jitsu gym, tied the knot on February 16, 2022.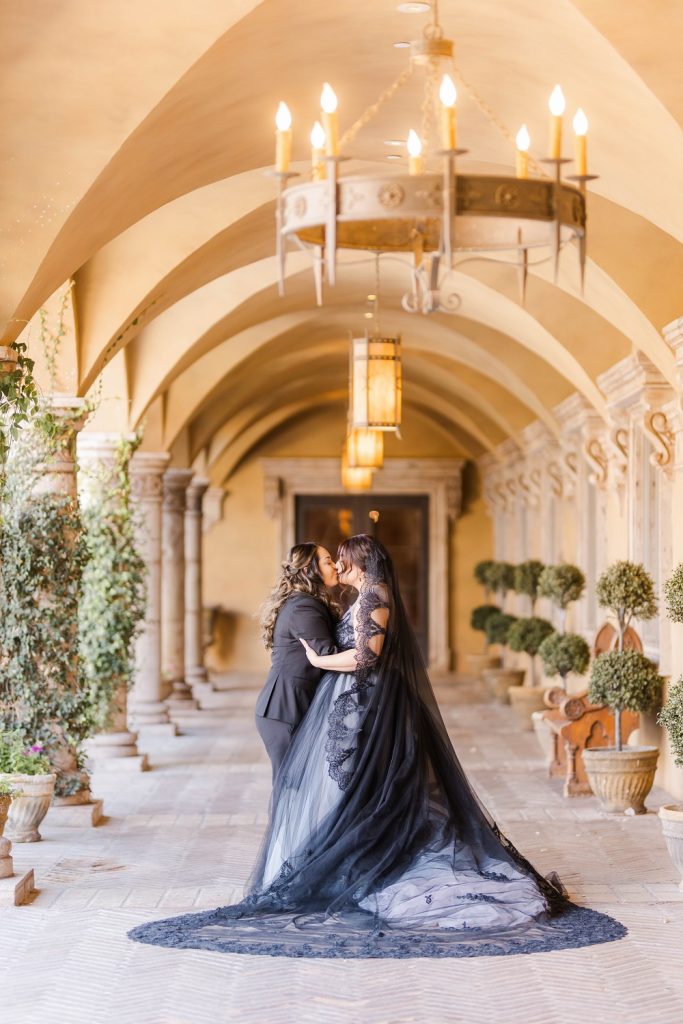 Delfinia dazzled in a dramatic sleeveless custom-made ballgown that featured a full skirt with a sheer black overlay, a sheer bodice with black appliques, and a low back. She accessorized with an elaborate drop necklace and a black veil with embroidery. Her bouquet was composed of white flowers with botanical accents. Her four bridesmaids wore individual purple full-length dresses. They carried smaller versions of the bride's bouquet.
Michelle looked sharp in a black suit with a black vest, black shirt, black striped tie, gold pocket square, and mini bouquet boutonniere. Her three bridesmen wore gray suits with gray vests, white shirts, purple ties, purple pocket squares, and mini bouquet boutonnieres. Her two bridesmaids wore individual purple full-length dresses and carried modified versions of Delfinia's bouquet.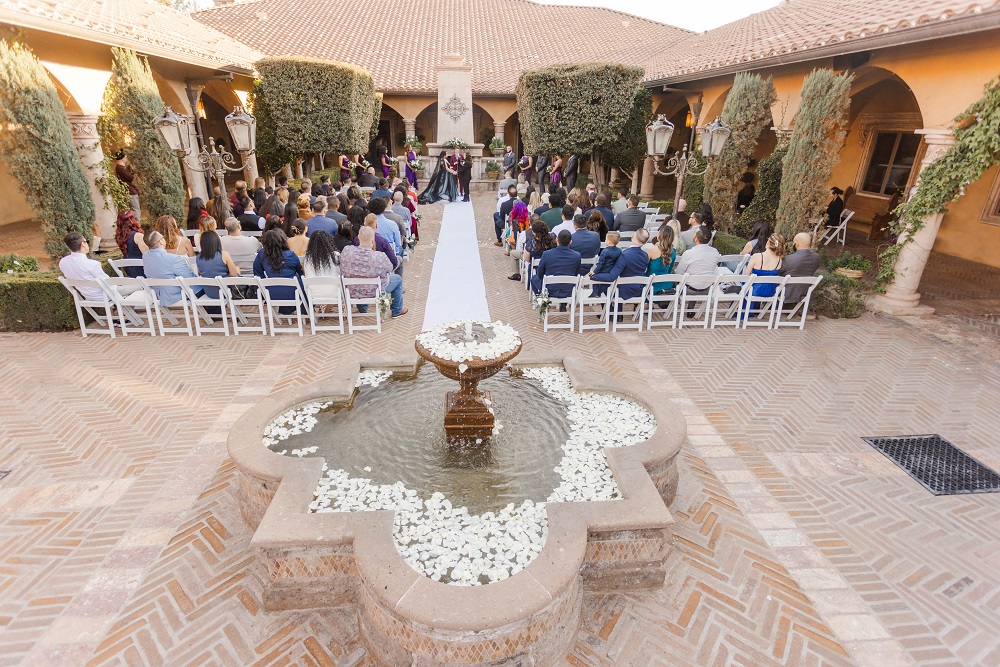 The couple read personal vows to each other during the outdoor ceremony.
Next, guests enjoyed a buffet-style meal of classic Caesar salad, sliced beef tenderloin with cognac cream sauce and horseradish aioli, potatoes, and steamed vegetables.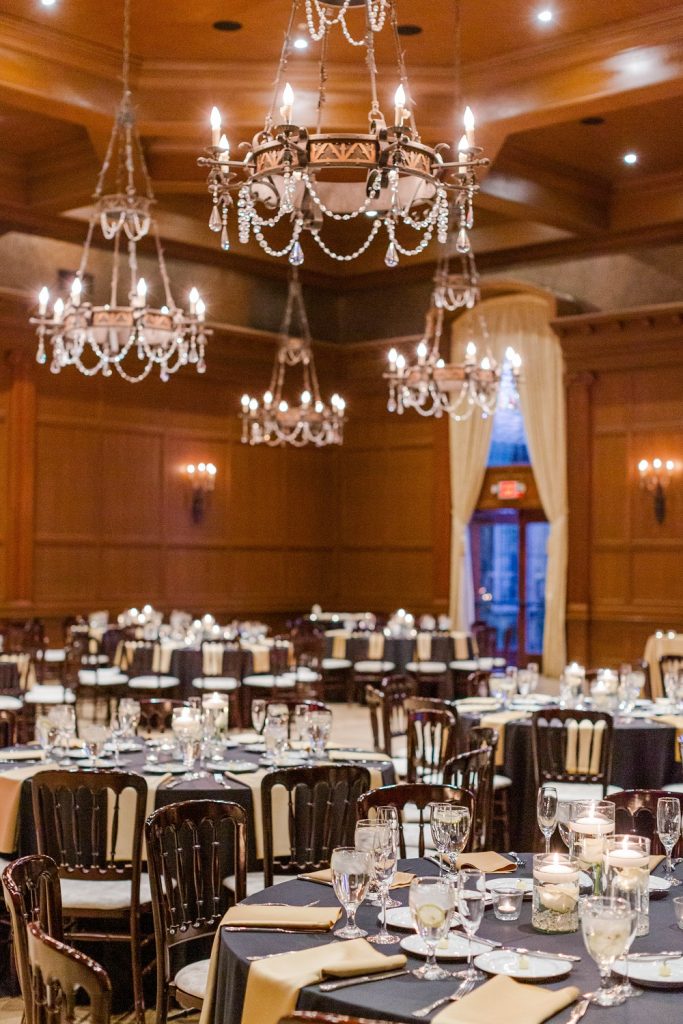 A number of people spoke during the toasts, including the newlyweds, members of the wedding party, and Michelle's father, who thanked everyone for coming and celebrating Michelle and Delfinia's love.
Delfinia and Michelle shared a traditional first dance together. Michelle also had special dances with her mother and father. Other wedding fun included a money dance and the shoe game.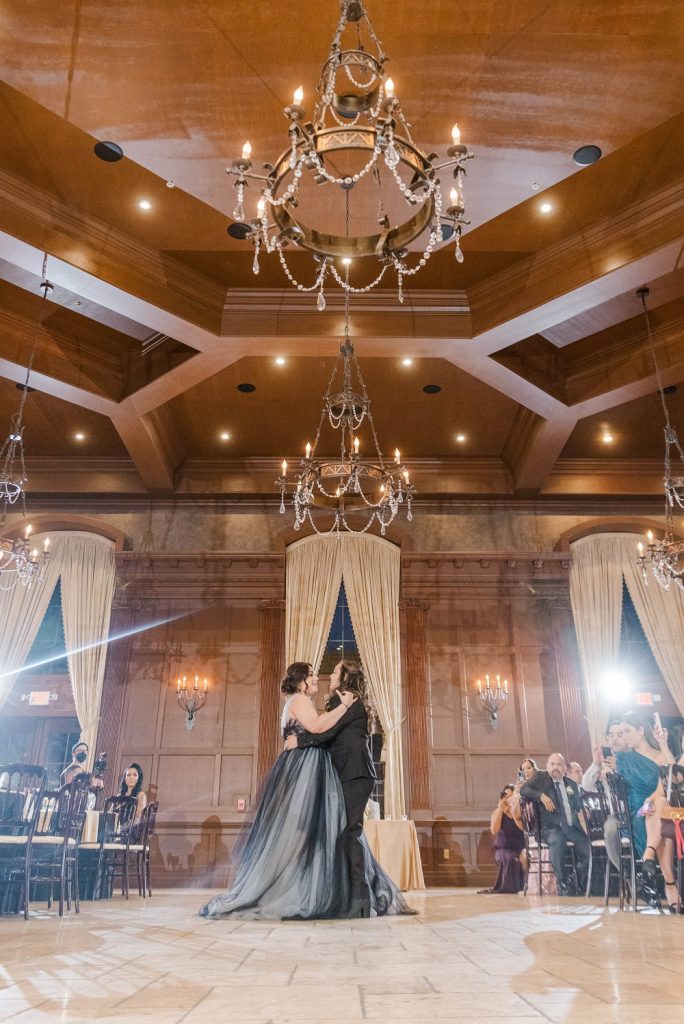 The three-tier cake had top and bottom white layers and a center black layer. It was decorated with a black rose design. There were vanilla cupcakes for the guests.
Congratulations to the happy couple!
Photography By: Leslie Ann Photography