Friends describe Brooke and Mason as a "power couple," so it should be no surprise that their wedding day was an absolute dream. The couple's lavender, white, and green color palette was perfect for a spring wedding!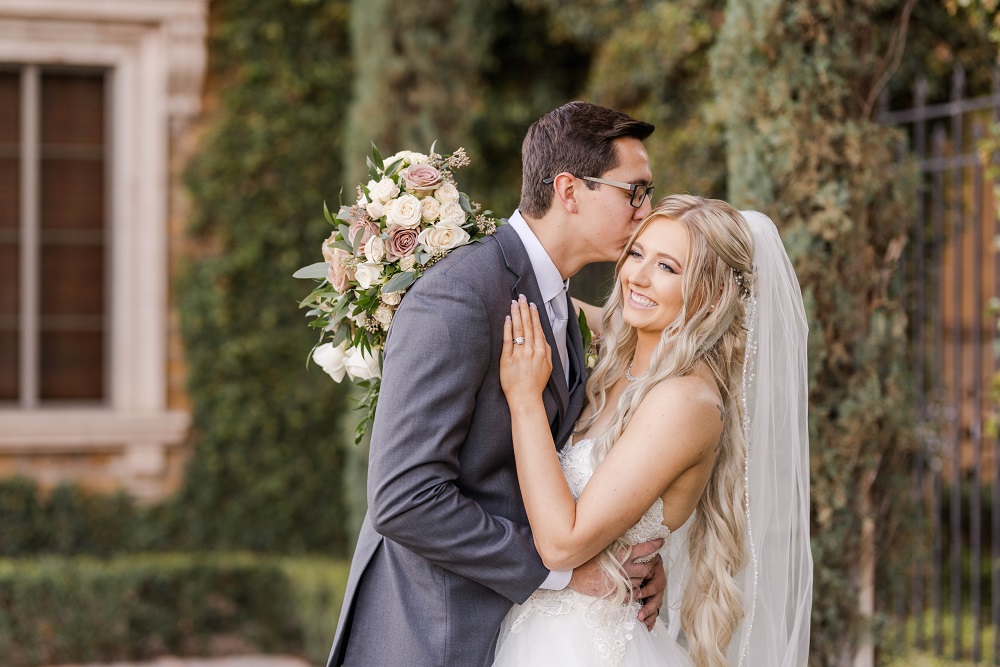 On the big day, our sweethearts and their dearest friends were dressed to the nines and looking lovely. Brooke's bridesmaids were stunning in their dusty lavender gowns. Mason's groomsmen looked sharp in their light gray suits and lavender ties. And as for the guests of honor? Mason looked dashing in his dark gray suit, while Brooke wowed everyone in her princess-like ball gown with a sweetheart neckline and delicate beaded detailing.
The couple tied the knot in our Plaza Toscano, which was decorated with heaping floral arrangements and white and purple rose petals. The ceremony was traditional and sweet, with the couple exchanging rings and vowing to love one another forever. Finally, it was time for Brooke and Mason to seal their union with a kiss — and for everyone to head inside and celebrate Mr. and Mrs. Jenson!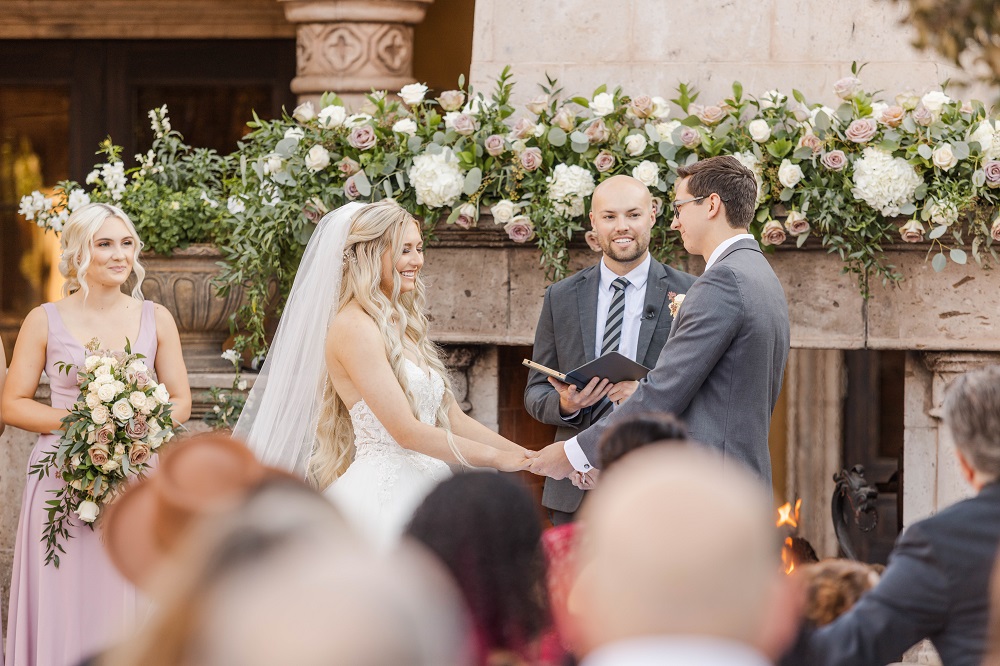 As guests entered the reception, they each took a moment to sign the "guest book;" they each signed their names on a wooden heart, then placed it into a heart-shaped glass case that Brooke and Mason are sure to treasure for the rest of their lives. Once everyone found their seats, it was time for a delicious meal of caesar salad, creamy potatoes in potato skins, roasted carrots, vodka penne pasta, steak with chimichurri, and chicken in a sweet glaze.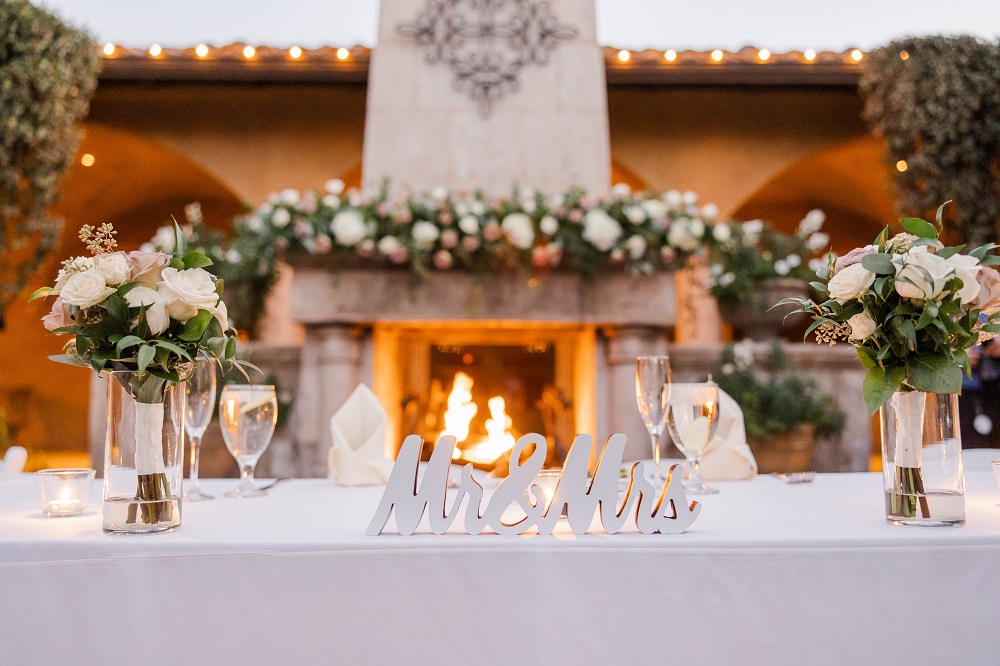 Brooke, Mason, and their loved ones played many of the traditional "reception games" like the money dance and bouquet toss. Everyone was having a great time throughout the evening, and by the time the party ended (with a spectacular sparkler exit), it was clear that Brooke and Mason were starting the next chapter in their lives on a loving and happy note.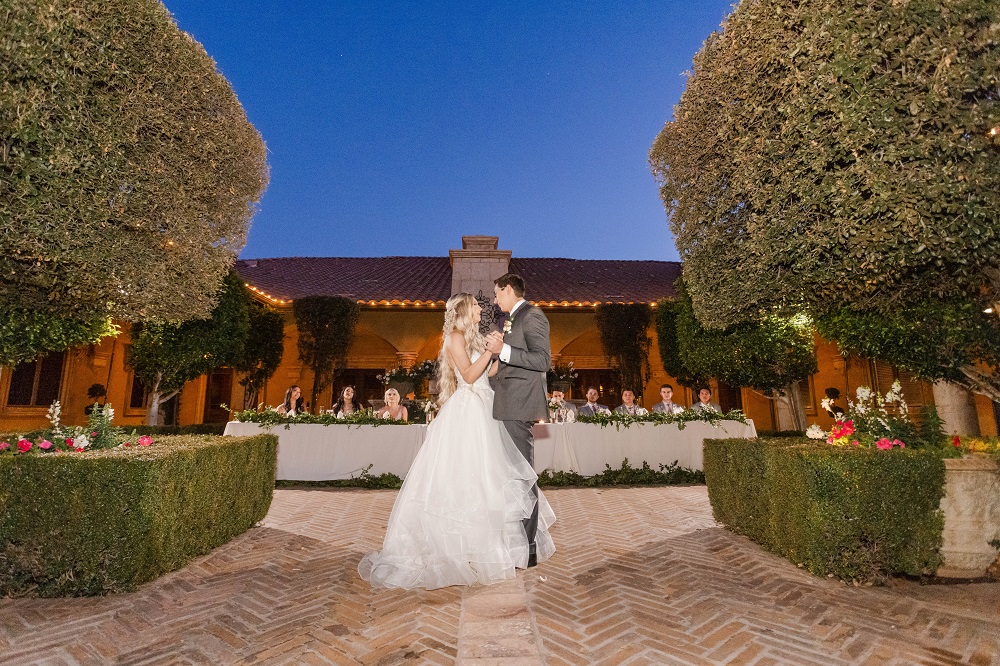 Photography By: Leslie Ann Photography