A Faith-Filled, Romantic Ceremony Perfect For Winter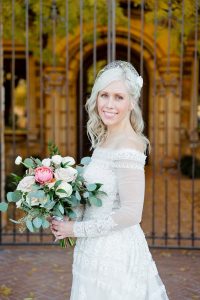 Talk about a classic love story! Brooke and Brad took the ceremony inside for their January wedding and the atmosphere couldn't have been more perfect. Seeing her romantic, off-the-shoulder dress and his sharp grey suit under the glow of the chandeliers was truly magical. Her bouquet was overflowing with lush pink and white flowers, with peonies, hydrangeas, and roses everywhere —plus greenery, which was a great touch for a winter wedding. Listening to the pastor speak about the three C's of marriage: cleave, covenant, and Christ, as well as the marriage box that they can fill with kindness, love, and faith for years to come, was truly a special event. The dedication of the couple, both to each other and to their faith, was clear from the outset.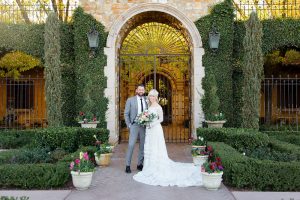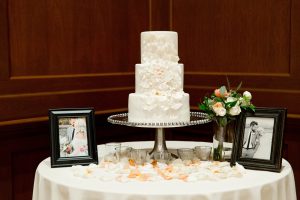 The reception was a total celebration — and their wedding design really fit the classical architecture and stonework of the villa. We loved their gorgeous wedding cake — three-tiered buttercream with a gorgeous ruffle detail running down the side — b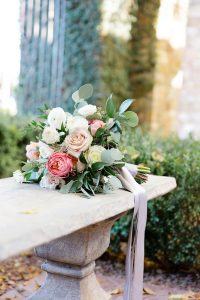 d, come-and-go feel, but they still took the opportunity to make the couple's personality shine through. In fact, we thought that the framed photos of the couple in the hallways and reception space was a great way to personalize the venue.
It was such a joy meeting Brooke and Brad on their big day — and we have no doubt that the rest of their lives will be as happy as this celebration!
Photography by: Annie Randall Photography