A New Adventure for Amy and Ben
Amy was ready for an adventure when she moved from Chicago to Arizona. And what did she find when she got here? Ben — the man who would turn out to be the love of her life! This past September, this bold couple decided to start a new adventure together, beginning with a beautiful fall wedding here at Villa Siena.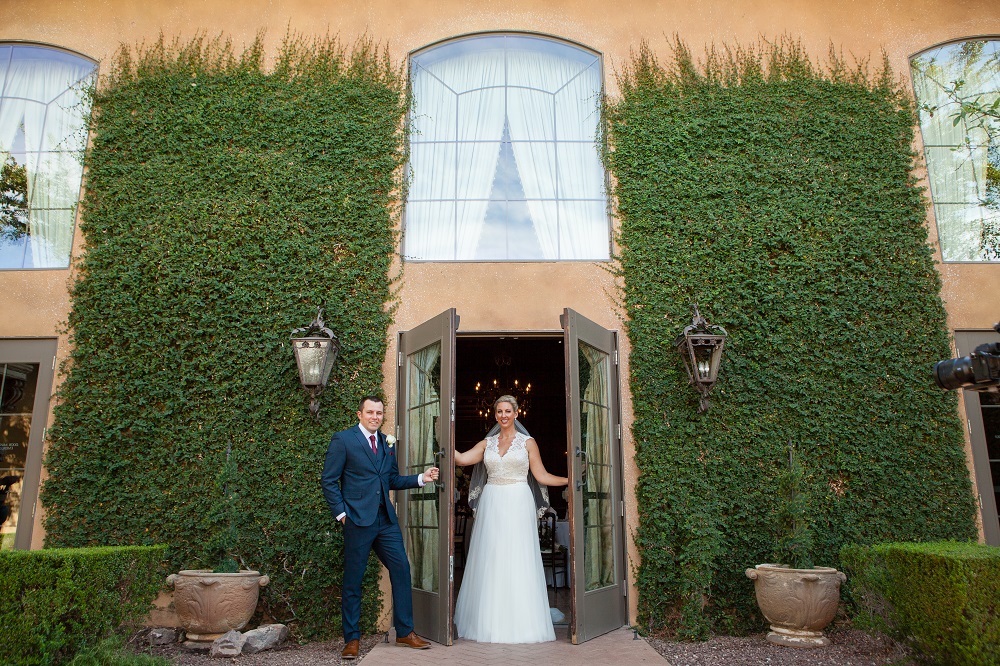 While September in Arizona is still warm enough to feel like summer, Amy and Ben cooled things down with a classic fall color palette: navy blue and burgundy (plus blush pink for the flower girls). The bridesmaids wore one-shoulder burgundy gowns. Ben and his groomsmen dressed in snappy navy suits with burgundy ties and pocket squares. Amy, of course, was lovely in her a-line wedding gown, which featured a v-neckline and lacy keyhole back.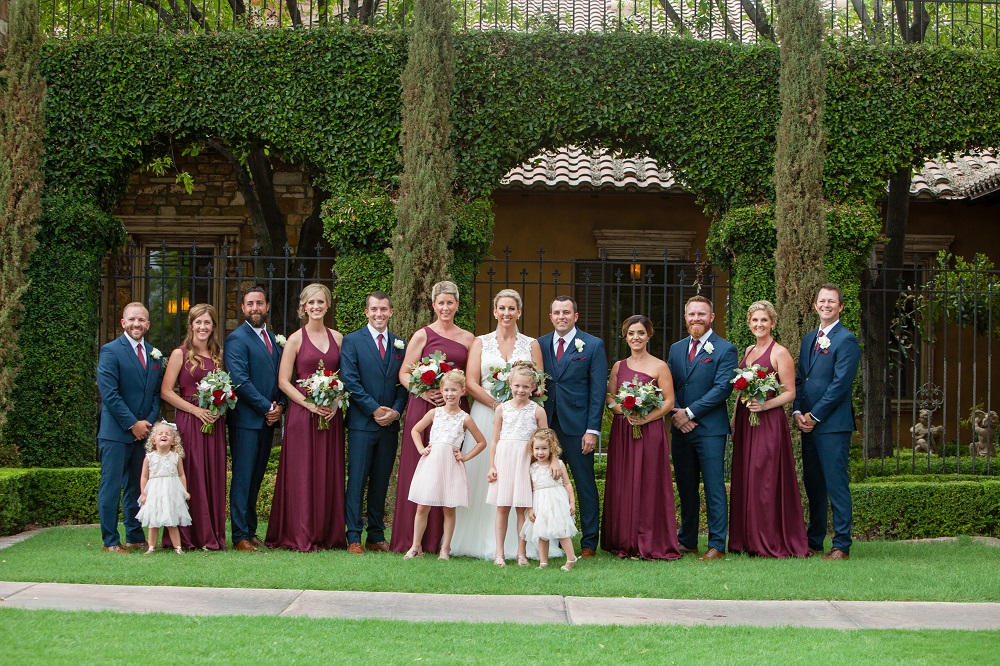 The couple tied the knot outside in the Plaza Toscana, which was decorated with red, pink, and white roses. The wedding was sweet and traditional; Amy and Ben recited their vows and exchanged rings before their nearest and dearest, and the wedding party set off a petal cannon when they kissed! Once Amy and Ben were officially declared husband and wife, everyone was wearing a great big smile.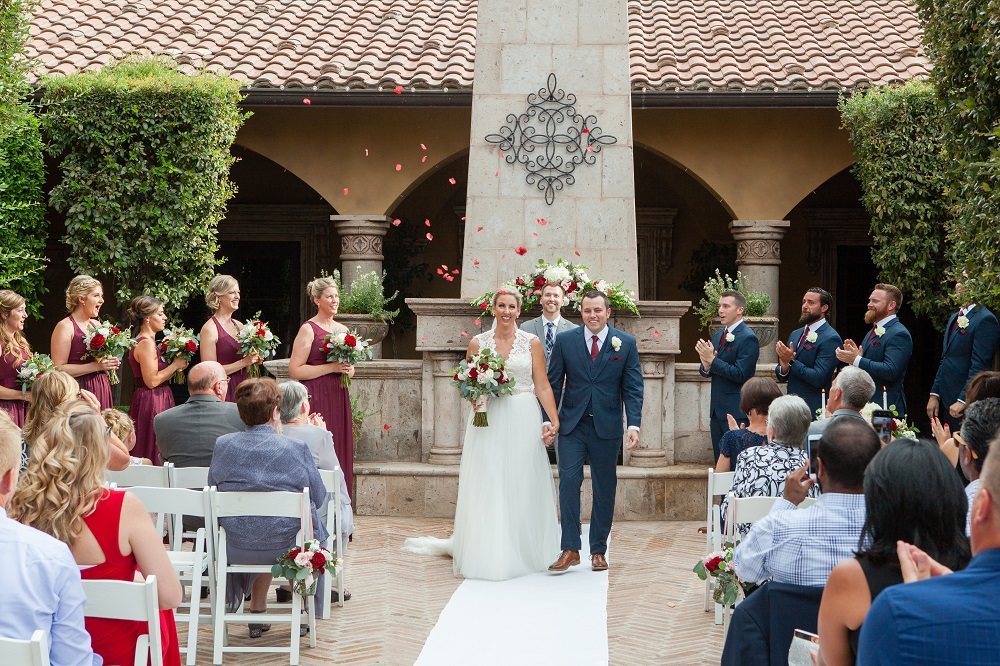 After the ceremony, guests mingled for a brief cocktail hour. During this time, they were encouraged to fill out "adventure cards" for the couple. Amy and Ben had compiled postcards from different destinations around the world, and guests were asked to give them suggestions on things to do at that location. Guests also signed quilt squares (which will be sewn together after the big day) in lieu of a guest book.
Once cocktail hour ended, everyone headed inside for dinner and dancing. Amy and Ben started with the latter, sharing their first dance to Rascal Flatts' "Bless The Broken Road." They also danced with their parents, set to "My Wish" by Rascal Flatts. Then, they settled into their seats to enjoy their wedding feast.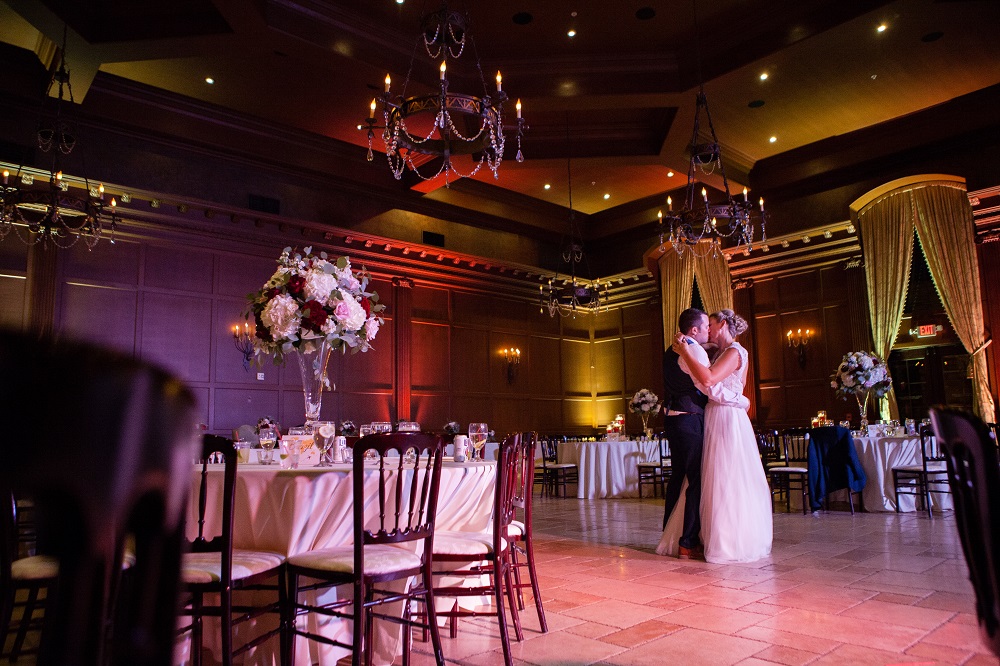 While members of the wedding party shared heartfelt speeches, everyone ate their dinner: mixed green salad with house vinaigrette; creamy mashed potatoes; a wild rice blend with quinoa, sweet potato, peppers, zucchini, yellow squash, and carrots; Caprese chicken with buffalo mozzarella with artichoke hearts and roasted tomatoes; and braised beef short ribs. Soon enough, everyone was stuffed — so it was time to burn some calories on the dance floor!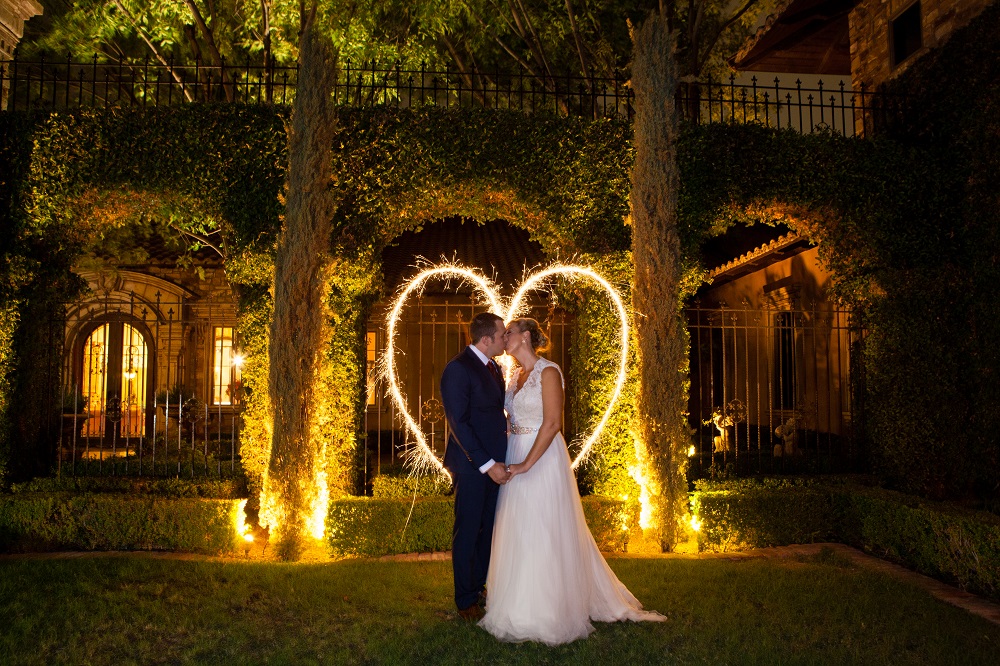 Guests spent the rest of the evening dancing, chatting with one another, and generally celebrating the happy newlyweds.
Photography By: David De Dios