From OK Cupid to "I Do"
Like so many of today's couples, Alyx and Scott began their romance online. But once they met up IRL, it was clear that these two were truly meant to be. We were so delighted to play a part in giving this sweet couple the wedding of their dreams.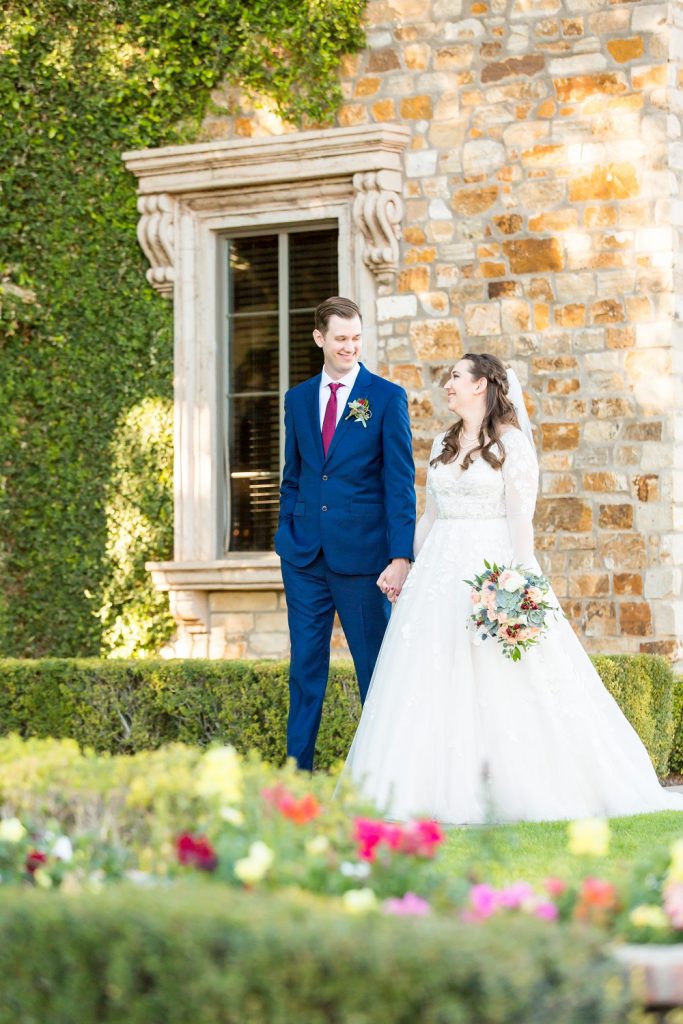 The November nuptials took place outdoors in our Plaza Toscana, which was decorated with armloads of red and white florals. The bridal party was dressed to impress: the bridesmaids wore long, burgundy gowns; Scott and his groomsmen sported navy suits with burgundy ties; and Alyx was breathtaking in her long-sleeved, v-neck, a-line dress that was simply covered in lace appliques. Even the guests were dressed up especially for the occasion — Alyx and Scott gave everyone custom face masks that reminded everyone you "can't mask our love!"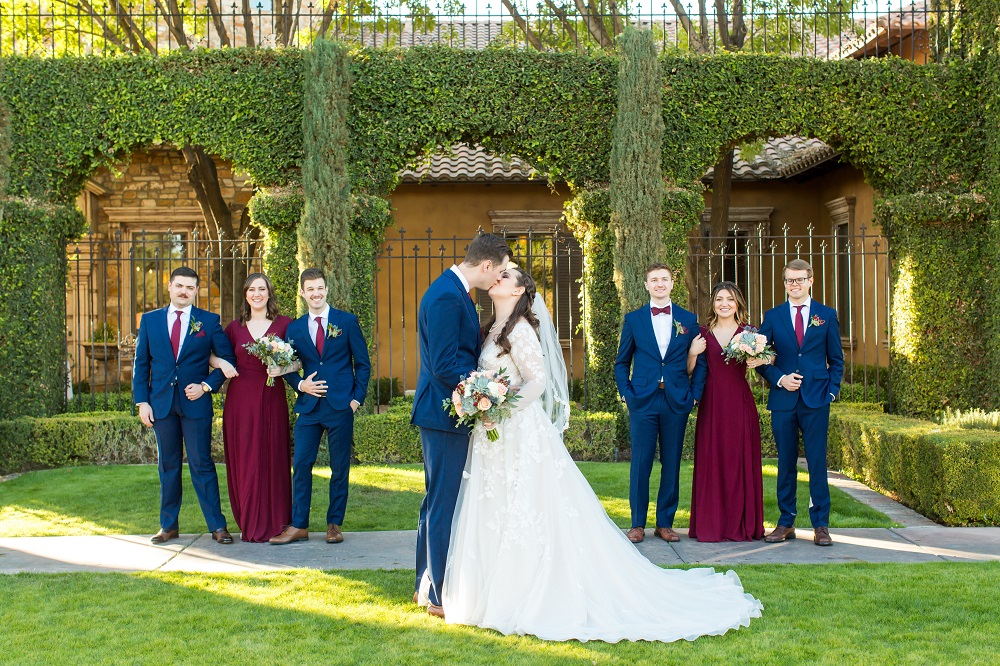 The ceremony was a sweet, heartfelt event filled with love and tradition. Alyx and Scott took part in a traditional Jewish ceremony, in which they each drank wine from a separate glass, then combined the wine into a single glass which they drank from. Finally, Scott stepped on the glass to symbolize the finality of their marriage bond.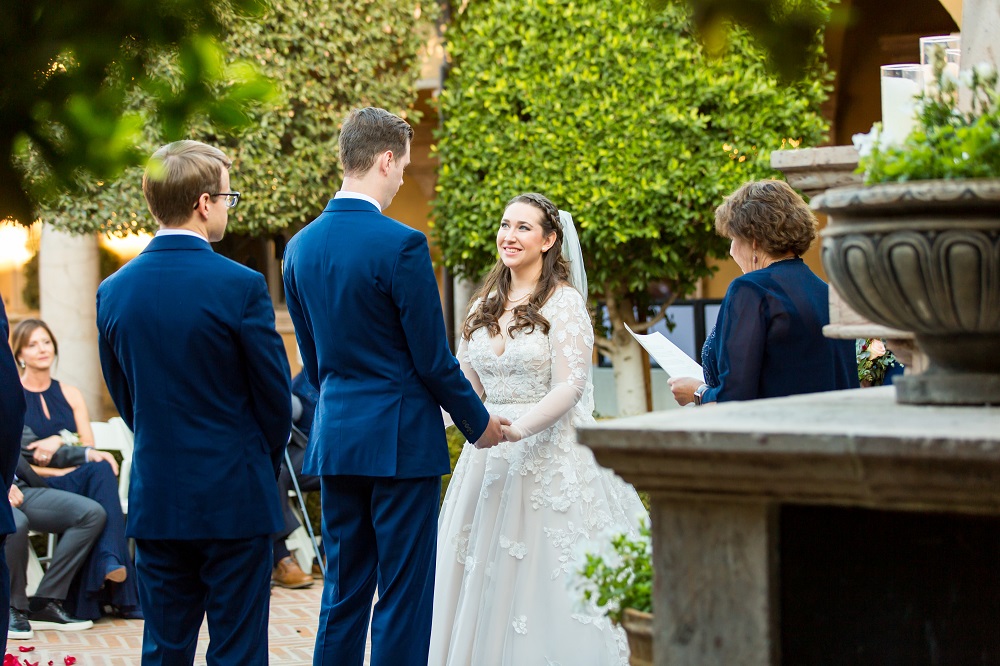 After Alyx and Scott were officially husband and wife, it was time to celebrate with dinner and dancing. The newlyweds kicked off the reception with a traditional first dance to "You'll Never" by Renee Fleming, followed by a father/daughter dance to Tim McGraw's "My Little Girl." The couple also had an anniversary dance during the night, celebrating the love of everyone in attendance.
Between dancing, mingling, and celebrating Alyx and Scott, guests enjoyed a delicious dinner of spring salad, mashed potatoes, garlic angel hair pasta, carrots, and an entree of mahi-mahi or beef. For dessert, there was a scrumptious, three-tier white cake (is your mouth watering yet?).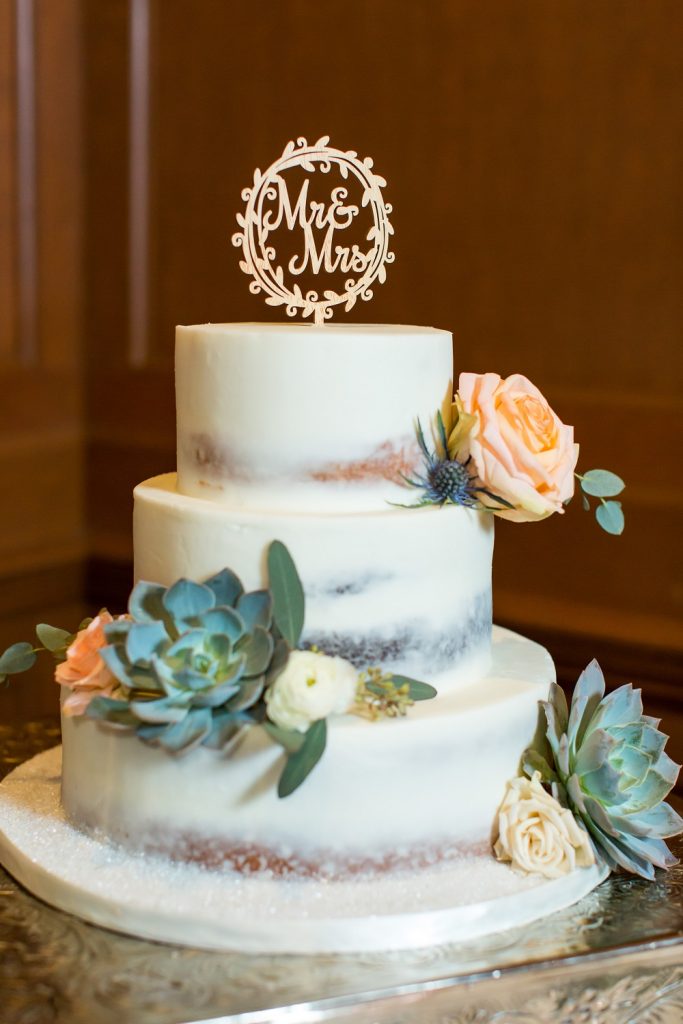 And throughout the evening, while Alyx, Scott, and their loved ones celebrated, a slideshow of the couple's photos played on a loop. It was a great reminder of all the adventures Alyx and Scott have enjoyed together — even if their greatest adventure is only just beginning. Mazel tov to the happy couple!
Photography By: Jenn Wagner Studio