Grant and Alexandra became man and wife on June 26, 2018.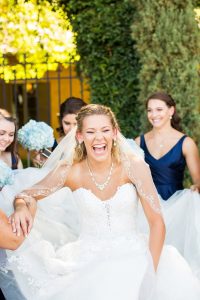 Alexandra chose a romantic strapless A-line gown with a sweetheart neckline, jeweled belt, and embellished overlay. Her accessories included drop earrings, a crystal necklace, and a hip-length veil. Her bouquet was composed o f white flowers accented with greenery. Her six bridesmaids wore matching full-length navy blue sleeveless dresses with V necklines and ruched bodices. They carried small bouquets of pale blue flowers.
Grant looked sharp in a light gray three-piece suit with a light gray vest, white shirt, blue tie, blue pocket square, and white rose boutonniere.
The ceremony included readings from the Bible and traditional vows by the bride and groom, who also took Communion during the proceedings.
Later, guests dined on a salad of greens, fruit, pecans, and feta cheese; pork chop with sweet glaze, chicken with a creamy sauce; mashed potatoes; and roasted carrots.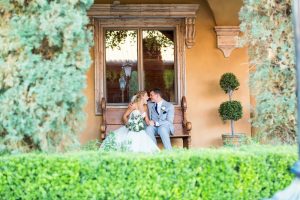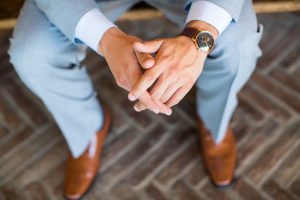 In the speeches, the best man talked about how he and the groom bonded over fantasy football, and that he knows Grant will love and care for Alexandra for the rest of his life. The maid of honor, the bride's older sister, said how kind Alexandra is and how she knew God would bring someone special into her sister's life.
Alexandra and Grant danced together for the first time as a married couple to "Hurricane" by The Likes of Us. Grant and his mother danced to "What a Wonderful World" by Louis Armstrong. Alexandra and her father danced to a medley that started with "My Little Girl" by Tim McGraw and included "You Should Be Dancing," "Footloose," and "Uptown Funk."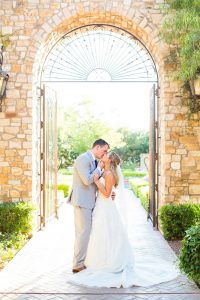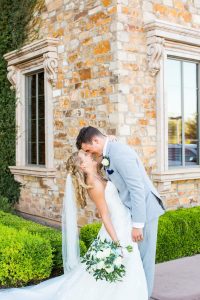 The couple played a game during the reception to see how well they knew each other.
The three-tier wedding cake was decorated with turquoise-colored brushstrokes and white and gold ribbons, as well as white floral accents.
We wish Alexandra and Grant all the happiness in the world!
Photography by: Jenn Wagner Studios